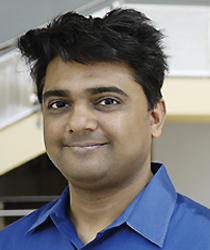 Sriram, Ganesh
Associate Professor
Keystone Professor
Associate Chair and Undergraduate Program Director

Chemical and Biomolecular Engineering
Maryland Energy Innovation Institute
Brain and Behavior Institute

4418 Stadium Dr. 1208D

EDUCATION
Ph.D., Iowa State University, 2004
SELECTED HONORS AND AWARDS
Poole & Kent Teaching Award for Senior Faculty, A. James Clark School of Engineering, University of Maryland, 2022
Keystone Professorship, A. James Clark School of Engineering, University of Maryland, 2011
Outstanding Young Engineer Award and Allan C. Davis Medal, Maryland Academy of Sciences and Maryland Science Center, 2011
Samuel Roberts Noble Foundation Best Presentation Award, Third International Congress on Plant Metabolomics, 2004
Metabolic Engineering III Fellowship, Engineering Conferences International, 2000
Best Innovative Potential Master's Thesis Award, Indian National Academy of Engineering, 1999
PROFESSIONAL MEMBERSHIPS
Sigma Xi, The Scientific Research Society
American Institute of Chemical Engineers
American Chemical Society
American Society of Plant Biologists
Systems biology and metabolic engineering (metabolic networks, regulatory networks, fuel production from biorenewable resources); genetically inherited metabolic disorders.
The Sriram Lab's research is focused on two related areas: metabolic engineering and systems biology, especially of eukaryotes. The group's  specialties are metabolic flux analysis and gene regulatory network analysis. Toward performing such analyses, the group combines experimental methods such as isotope labeling, two-dimensional (2-D) NMR, gas chromatography-mass spectrometry (GC-MS), DNA microarray analysis and quantitative RT-PCR (qPCR) together with computational methods.
For more information, please visit Professor Sriram's web site.
Professor Sriram currently teaches or has taught the following courses:
BIOE 120: Biology for Engineers
CHBE100: Exploring ChBE (Co-Instructor)
CHBE101/ENCH 215: Introduction to Chemical and Biomolecular Engineering
CHBE301/ENCH 300: Chemical Process Thermodynamics
CHBE444: Process Economics and Design I
CHBE484/ENCH 468M/BIOE 489L/ENCH648M: Metabolic Pathway Engineering