Gastfriend Named 2015 Goldwater Scholar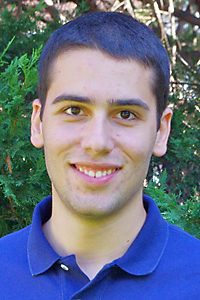 Courtesy of and adapted from the original release by Dr. Abby Robinson, CMNS.
Department of Chemical and Bimolecular engineering junior Benjamin Gastfriend is one of four University of Maryland students who have been awarded scholarships by the Barry M. Goldwater Scholarship and Excellence in Education Foundation, which encourages students to pursue advanced study and careers in the sciences, engineering and mathematics.
Gastfriend and fellow UMD juniors Shane Falcinelli, Nathan Ng and Iowis Zhu (all from the College of Computer, Mathematical and Natural Sciences) were among the 260 Barry Goldwater Scholars selected from 1,206 students nominated nationally this year. The four students, who are all members of the UMD Honors College, plan to pursue doctoral degrees in their areas of study and to become university professors.
Gastfriend is a member of ChBE associate professor Ganesh Sriram's research group, which focuses on engineering the metabolism of microorganisms to produce biofuels and other chemicals. Gastfriend is working to amplify the production of a bioplastic in a bacterium through metabolic engineering.
"It will be hard to come across a student and researcher as outstanding as Ben," says Sriram. "His performance in classes is unprecedentedly brilliant. In research, he is creative and industrious, conducting very comprehensive literature reviews on his project, performing experiments and computation impeccably well, drawing impressive insights from his results and writing up his work in detail—all with little to no supervision."
The Goldwater Scholarship program was created in 1986 to identify students of outstanding ability and promise in science, engineering and mathematics, and to encourage their pursuit of advanced study and research careers. The Goldwater Foundation has honored 51 University of Maryland winners since the program's first award was given in 1989.
Colleges and universities may submit up to four nominations annually for these awards. Goldwater scholars receive one- or two-year scholarships that cover the cost of tuition, fees, books, and room and board up to $7,500 per year. These scholarships are a stepping-stone to future support for their research careers.
Published April 3, 2015