Gupta Wins Goldwater Scholarship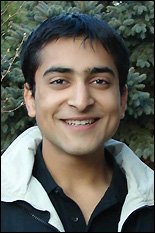 Department of Chemical and Biomolecular Engineering junior Apoorv Gupta has been awarded a 2011-2012 Goldwater Scholarship, the premier national award granted to undergraduate students majoring in mathematics, natural sciences and engineering who are interested in research careers.
Created by the United States Congress in 1986 to honor Senator Barry M. Goldwater, Goldwater Scholarships are designed to ensure the nation has a source of highly qualified scholars and researchers. Recipients are chosen based on academic merit, research experience and career objectives.
Gupta works in Fischell Department of Bioengineering professor and chair William Bentley's Molecular & Metabolic Engineering Laboratories, where he is part of a team engaged in the study of quorum sensing, a cell-to-cell communication process that allows groups of single celled bacteria to act as multicellular entities, in some cases allowing them to become pathogenic. In 2010, his work with Bentley's group earned him a Howard Hughes Medical Institute (HHMI) Undergraduate Research Fellowship.
Gupta intends to pursue a Ph.D. in bioengineering and conduct research in cellular and metabolic engineering in either an academic or industrial setting.
Published April 15, 2011