Biofuel Technologies Featured on CBS News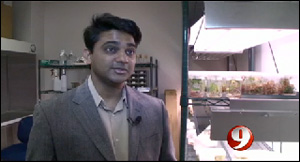 Two biofuel technology projects based at the University of Maryland were recently profiled on Washington, D.C. CBS affiliate WUSA-9 news. The segment hosted by reporter Bruce Leshan, "Scientists Work To Turn Trash Into Fuel," included interviews with collaborators and co-PIs from the Clark School, the College of Agriculture and Natural Resources, and the College of Chemical and Life Sciences.
Zymetis, a startup company whose collaborators include Department of Materials Science and Engineering (MSE) Professor and Chair Robert M. Briber and MSE graduate student Brian Watson, is working with Saccarophagus degradens, a bacterium found in the Chesapeake Bay capable of digesting almost anything containing cellulose—including materials usually headed for landfills such as sawdust, paper, and agricultural waste—and converting it to sugars that can be fermented to make ethanol and other kind of fuels.
Assistant Professor Ganesh Sriram (Department of Chemical and Biomolecular Engineering) was interviewed about his work as a co-PI on a project that seeks to turn poplar trees into high-yield crops that provide the raw materials for biofuel production by genetically enhancing their ability to process nitrogen, which will increase their growth rate. It is possible, Sriram notes in the segment, that one day Zymetis' bacterium could find itself digesting his group's hybrid trees.
To watch the segment and read the accompanying story, visit the WUSA-9 web site »
Related Stories:
"A Tree in Your Tank?" »
"Briber, Watson Receive MIPS Funding for Work with Zymetis" »
Published April 21, 2010