Lin Named UMD Undergraduate Researcher of the Year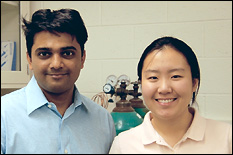 ChBE junior Emily Lin has been named an Undergraduate Researcher of the Year by the Maryland Center for Undergraduate Research for her accomplishments in chemical and biomolecular engineering and biochemistry. She was selected from a highly competitive group of nominees working in diverse fields throughout the university. Lin will receive her award and be introduced by her advisor, Assistant Professor Ganesh Sriram, at the opening ceremony of the 2010 Undergraduate Research Day on April 27.
Lin works in Sriram's Metabolic Engineering Laboratory, where she has been focusing on the metabolic flux analysis of plant cells, a method that quantitatively tracks their carbon traffic. The data she collects could help scientists genetically engineer more effective crops for use in the production of biofuels.
Sriram, who nominated Lin for the award, is proud of her win. "This is a prestigious recognition and reflects not only Emily's research aptitude but also her ability to transcend disciplinary boundaries between engineering and plant biology," he says.
Lin has previously been honored by the American Society of Plant Biologists (ASPB), which awarded her a Summer Undergraduate Research Fellowship (SURF) in 2009 to help fund her work, and has invited her to present her results at its national meeting in Montreal, Canada in 2010. In 2008, she received the NSF-sponsored Louis Stokes Alliance for Minority Participation (LSAMP) award for research.
Published April 22, 2010