Lin Wins ASPB SURF Fellowship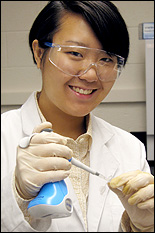 Department of Chemical and Biomolecular Engineering sophomore Emily Lin has been awarded a 2009 American Society of Plant Biologists (ASPB) Summer Undergraduate Research Fellowship (SURF). The award includes a $3,000 student stipend, $500 for lab supplies, a one year student membership in the ASPB, and a $500 travel allowance to attend the 2010 ASPB national meeting in Montréal, Canada, where she will be the co-author of a registered abstract. Lin will also be featured in an article in the May/June issue of
ASPB News.
The fellowship will support Lin's research this summer in the Metabolic Engineering Laboratory, directed by her advisor, Assistant Professor Ganesh Sriram.
"The ASPB-SURF is a prestigious and highly selective award," says Sriram. "This year's competition resulted in only fifteen awardees nationwide, and Emily is very likely one of the few engineering students to win it."
Lin's research will focus on the metabolic flux analysis of plant cells, a method that quantitatively analyzes carbon traffic in cells so that their metabolic pathways can be understood. It involves growing plants on isotopically labeled carbon sources, using analytical techniques such as nuclear magnetic resonance and gas chromatography-mass spectrometry to measure isotope patterns, and using advanced computational techniques to analyze the resulting data.
The research is important because plant cells, which are sources of food and biofuels, contain an interconnected network of chemical reactions. Understanding how carbon flows through these reactions or pathways will enable scientists to improve carbon partitioning through the cells and to smartly identify which reactions in the cells should be genetically engineered to improve their productivity.
Lin has worked with Sriram since the end of her freshman year. At the time, he was fairly new to the faculty. "When I joined Dr. Sriram's research group in the summer of 2008, there was very little in the lab," she recounts. "It was exciting to see instruments arrive, and it is especially rewarding to personally experience how a functional lab is set up. My future career aspiration is to become a professor or researcher. Now that I have learned how to set up a lab properly, I will have much more confidence when I have to do it alone one day."
Her experience in the lab has been both beneficial and influential. "I get to explore my interests, to experiment with new ways of thinking, and lots of other benefits. Also, working with brilliant people such as Dr. Sriram really motivates me to study and, in a cliché way, 'to grow up and become just like him.' Before the summer [of 2008] I had no idea what I wanted to do in terms of research. After reading articles and texts related to Dr. Sriram's research, I realized that I am deeply attracted to biochemistry and metabolism. Now I am considering adding Biochemistry as my second major, thanks to my summer research [and] discovering my passion for biochemistry."
Lin has previously received the $2500, NSF-sponsored Louis Stokes Alliance for Minority Participation (LSAMP) award for research in 2008.
Published April 5, 2009