Behrens Wins Outstanding ASPIRE Student Research Award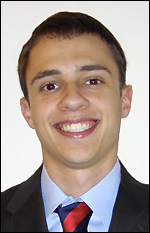 Department of Chemical and Biomolecular Engineering
junior Adam Behrens, advised by Fischell Department of Bioengineering professor Peter Kofinas, is the recipient of the 2009 Outstanding ASPIRE Student Research Award for his work on polymer hemostatic hydrogels. ASPIRE, A Scholars Program for Industry-Oriented Research in Engineering, is run by the A. James Clark School of Engineering and offers students the opportunity to move beyond the classroom by working with faculty or staff on real-world engineering projects.
Behrens works in Kofinas' Functional Macromolecular Laboratory under the supervision of Graduate Program in Bioengineering student Brendan Casey. Their research focuses on investigating how the chemistry and structure of synthetic polymer hydrogels influence the blood coagulation cascade, a series of complex cellular and protein reactions that result in blood clotting. Clotting is an important factor in hemostasis, the prevention of further blood loss from and healing of damaged blood vessels. Behrens and Casey's goal is to gain a better understanding of the interactions that occur between synthetic polymers and blood coagulation cascade components in order to develop more advanced hemostatic materials for treating injuries.
Behrens and Casey have developed a synthetic hemostatic material capable of simultaneously inducing blood clotting and delivering drugs. This double-duty makes it both unique to the market and ready to meet the demands of next generation, military-grade hemostasis materials for use on the battlefield. It is as effective as biologically-based products, but can be produced at a fraction of the price. It allows for the treatment of all hemorrhaging wounds.
Behrens has been working with Kofinas since his sophomore year, when he was recruited from the professor's section of ENES 100: Introduction to Engineering Design. "I make [a] special effort to recruit talented undergraduates to work in my lab," says Kofinas. "—the earlier in their career the better."
Although usually taken freshman year, Behrens explains he was in ENES 100 as a sophomore because he had come to Maryland as an undecided major. Bio-oriented engineering, he says, was "not always on [his] radar" but he became interested when Kofinas announced he was looking for an undergraduate research assistant for a project involving an artificial lung. "I had a really broad range of career-oriented interests so I decided to give it a chance," he says. The project evolved into the one he now works on with Casey.
Behrens has no regrets about the decision. "My early immersion in research has definitely been a positive experience throughout my time here. I've formed a lot of relationships, both professional and personal, that will last me a lifetime. The research I'm a part of also has allowed me to strengthen my biological and business education, resulting from studying biological interactions and developing a business plan for the biotechnology we're developing." One of the reasons he chose to attend the University of Maryland, he says, was because of its strong business and engineering programs. "Ultimately, I'd like to transition into a career in which I am able to bridge the gap between technical projects and business aspirations."
Published April 4, 2009