Hollinshead Wins Outstanding ASPIRE Student Research Award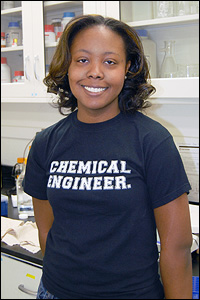 Department of Chemical and Biomolecular (ChBE) senior Whitney Hollinshead, advised by Assistant Professor Ganesh Sriram, is the recipient of the 2012 Outstanding ASPIRE Student Research Award for her work on isotope labeling experiments to determine the fluxes in metabolic pathways within plant cells. ASPIRE, A Scholars Program for Industry-Oriented Research in Engineering, run by the A. James Clark School of Engineering, offers students the opportunity to move beyond the classroom by working with engineering faculty or staff on real-world engineering projects.
Hollinshead has been a member of Sriram's Metabolic Engineering Laboratory since June 2010, and has worked on her ASPIRE-funded project, "An Integrative Study of Nitrogen Cycling and Storage in Poplar," since fall 2011. For the past several years, the Sriram Group, in collaboration with Prof. Gary Coleman (Plant Science and Landscape Architecture) has investigated how poplar trees can be modified into a high-yield, cost-effective and renewable biofuel crop.
"One of the major issues in science and engineering is finding affordable and viable alternative energy sources," says Hollinshead. "That this project address this issue is what first drew me to [it]."
Hollinshead grows poplar cells on media laced with specific concentrations of a carbon isotope, 13C, a carbon atom containing one extra neutron. The difference in mass between ordinary carbon and 13C allows her to use gas chromatography-mass spectrometry to display the mass distribution of fragments of compounds present in the plant cells which have absorbed 13C and other compounds, like glucose, from the medium. This information is then used to determine the isotope distribution in individual compounds and to identify the biomass composition of the cells.
"[U]sing carbon isotope-labeled media allows a picture to be developed of the internal metabolism of cells, in both plants and bacteria," Hollinshead explains. "This technique can be [applied to] biosystems to allow better engineering of cells….[Our group's] goal is to develop a model of the metabolism of poplar cells to further modify pathways to promote faster growth and crop yield."
"Whitney's projects have required experimental skills ranging from cell culture to separations, analytical chemistry and mass spectrometry," says Sriram. "She helped develop and optimize a number of methodologies related to these. What has impressed me is her perseverance and determination in the face of experiments and analyses that do not work."
Outside of class, Hollinshead is a member of the Thirsty Turtles, the Clark School's Chem-E Car team. Her work in the structures group helped two of the team's chemical reaction-powered vehicles, Raphael and The Pride of Maryland, turn in strong performances at the mid-Atlantic regional competitions in 2011 and 2012.
In the fall, Hollinhead will join the Ph.D. program at Washington University in St. Louis, Mo. There, she hopes to continue her research on biologically based energy solutions, an interest she says was sparked by her experiences in the ASPIRE program and the Sriram Group. "The techniques and knowledge I continuously acquire while working on this project," she adds, "[are what] challenge me to continue."
Published April 20, 2012