Dat Huynh Wins HHMI Fellowship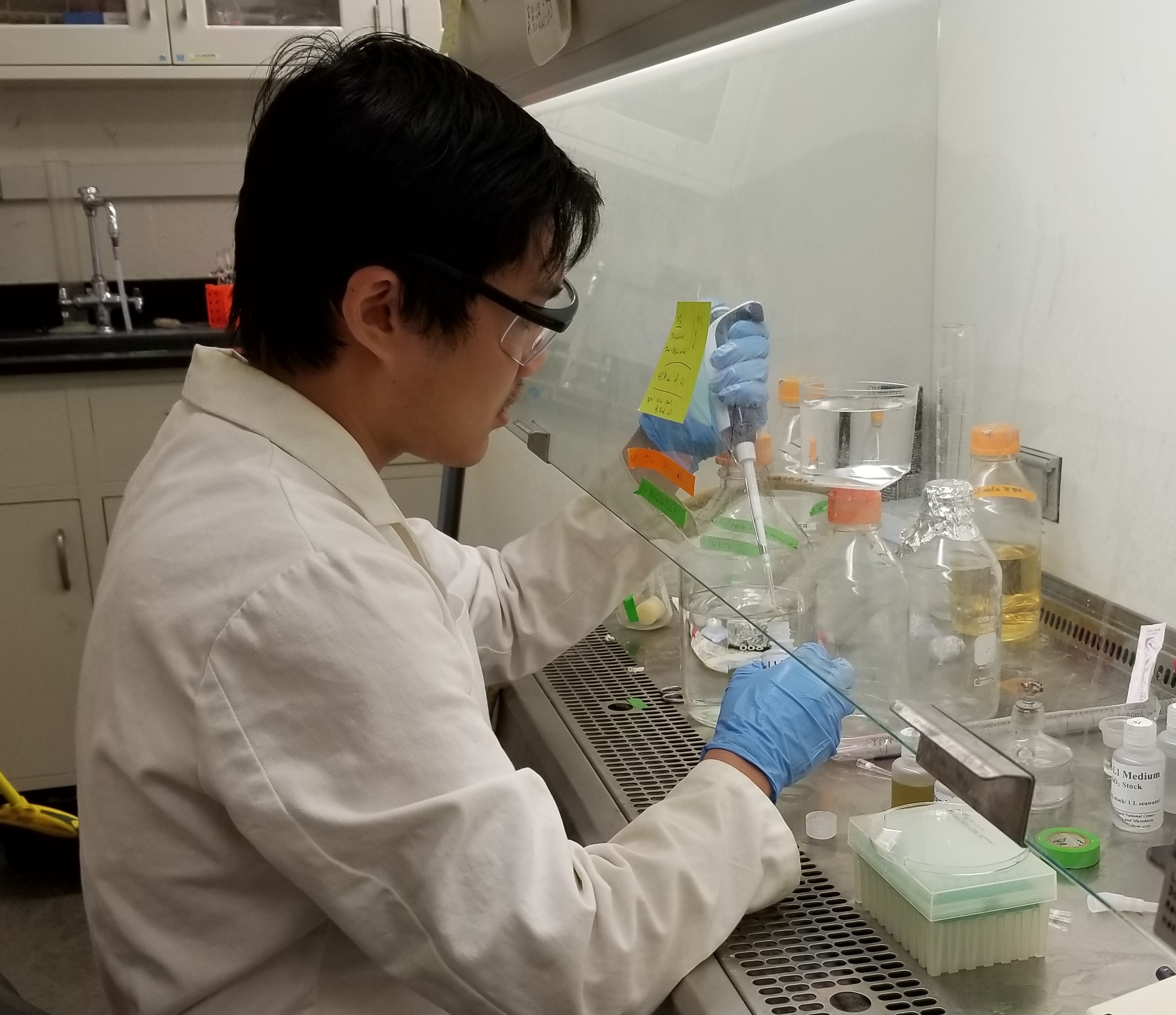 Department of Chemical and Biomolecular Engineering (ChBE) junior Dat Huynh has been awarded a Howard Hughes Medical Institute (HHMI) Undergraduate Research Fellowship. This prestigious award funds his study of an algal-bacterial co-culture, consisting of the alga Phaeodactylum tricornutum (Pt) and a bacterium. Both algae and bacteria influence ecosystems, and there are many studies that have shown that both organisms affect each other's physiology and metabolism. Curious about their symbiotic relationship, Huynh is using his HHMI fellowship, which began earlier this summer, to investigate the possibility of altered metabolism in both algae and bacteria when they are grown together (i.e., co-cultured). Toward this, Dat will be performing isotope labeling experiments and using chemical engineering principles to follow the flow of carbon through myriad chemical reactions in both organisms.

The competitive HHMI Fellowship program, sponsored by the Howard Hughes Medical Institute and the University of Maryland's College of Computer, Mathematical & Natural Sciences, supports the research activities of undergraduates working under the direction of a faculty mentor. The program's goal is to give talented students the opportunity to immerse themselves in the investigative process, increase their aptitude for research, collaborate directly with faculty, and strengthen their dedication to a career in medical, biological or life sciences.

Huynh, originally from Vietnam, has always had a knack for science and mathematics.
"Initially, I wanted to become a medical doctor, but soon learned that it was not the right path for me, Huynh said. "Despite this, I still wanted to do work that involved helping the ill. In high school, I shadowed an engineer for a day. She told me something that has been my motivation for studying engineering ever since: An engineer doesn't simply design and construct buildings. They create and design products and structures that have the potential to help millions of people. With this in mind, I want to work in the medical industry as an engineer, to help create medical products that can help those in need."
Huynh isn't yet sure if graduate school and a Ph.D. program are in his future, although he is considering the five-year master's program in the Chemical Engineering Department. Regardless of how long Huynh stays in school, he plans to work in the biotechnology or pharmaceutical industry post-graduation.
Huynh is advised by ChBE Associate Professor Ganesh Sriram and conducts his research in Sriram's Metabolic Engineering Laboratory. Previous winners of the HHMI Fellowship from Sriram's research group include ChBE students Matt Conway and Lauren Dorsey.
Published August 24, 2017