ResearchFest 2009 Winners Announced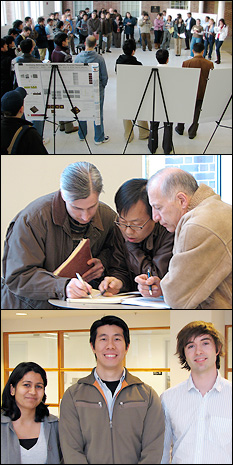 Graduate students Shilpa Nargund (Department of Chemical and Biomolecular Engineering [ChBE]), Peter Thomas (Fischell Department of Bioengineering [BioE]) and Matthew Dowling (BioE) were named the winners of the 2009 ResearchFest poster contest. The trio were selected by a panel of judges including Professor Mohamad Al-Sheikhly (MSE), Assistant Professor Sang Bok Lee (Department of Chemistry and Biochemistry), and W. R. Grace & Company Senior Process Research Engineer Stuart Nolan.
Nargund, advised by ChBE assistant professor Ganesh Sriram, was awarded first place for her poster titled "Mapping Carbon Traffic Toward Biomass Synthesis and Accumulation in Bioenergy Crops."
Thomas, advised by ChBE associate professor Srinivasa Raghavan, took second place with his poster titled "Thin Film Oxygen Sensor for In Vitro Cell Culture."
Dowling, also advised by Raghavan, took third place with his poster titled "Multi-Photon-Absorption-Induced-Luminescence (MAIL) Imaging of Tumor Targeted Gold Nanoparticles."
ResearchFest was sponsored by BioE, ChBE, and MSE, and was organized by ChBE graduate student Aaron Fisher and ChBE associate professor and graduate program director Sheryl Ehrman. About two dozen students gave two-minute overviews and presented posters of their work to the large audience at the annual event, which highlights the best graduate- and undergraduate-level research from the three departments. It allows students to share their work in a casual setting with faculty, staff and students from other research groups.
"I think it was a lot of fun, and certainly judging by the buzz of conversations, a big success," said Ehrman. "One of the judges said it was a difficult decision because there were so many excellent research projects, and I agree!"
Learn More:
Download the ResearchFest program booklet containing the presentation slides (PDF) »
Published February 11, 2009