ResearchFest 2012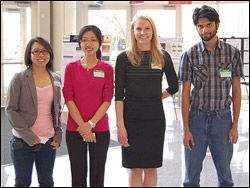 Graduate students Chia-Ying "Winnie" Chiang (Department of Chemical and Biomolecular Engineering [ChBE]), Neville Fernandes (ChBE), Janet Hsu (Fischell Department of Bioengineering [BioE]) and Amy Marquardt (Department of Materials Science and Engineering [MSE]) took top honors at the 2012
ResearchFest
, held March 30.
ResearchFest, a casual "mixer" symposium and lunch that encourages students to share their work with faculty, staff and students from other research groups, is an annual event sponsored by BioE, ChBE, MSE, and their respective graduate student societies. Students give one-minute oral presentations about their work, which serve as pitches to encourage other attendees to visit them during the following poster competition to learn more. Special guests are invited to serve as judges, and prizes are awarded for the best presentations/posters.
This year, the overall winner was Amy Marquardt (MSE). Marquardt, who is advised by MSE professor Raymond Phaneuf, received top honors for her presentation and poster, titled "Atomic Layer Deposition (ALD) Films as Diffusion Barriers for Silver Artifacts."
The runners-up, in alphabetical order, were:
Chia-Ying "Winnie" Chiang (ChBE), advised by ChBE professor and chair Sheryl Ehrman, for "Biological Templates for Anti-reflecting Surface & Current Collectors for Photoelectrochemical Cell Applications";
Neville Fernandes (ChBE), advised by ChBE professor Srinivasa Raghavan, for "Creating Polymer Hydrogel 'Hybrids' Combining Gels of Distinct Properties"; and
Janet Hsu (BioE), advised by BioE professor Silvia Muro, for "Enhanced Kidney and Heart Delivery of α-Galactosidase by Modulating Enzyme Load and Carrier Bulk-Concentration of ICAM-1-Targeted Nanocarriers."
The 2012 ResearchFest judges were:
Dr. Colin Hebert (Ph.D. '08, bioengineering), Naval Research Lab;
Erin LaBarre (B.S./M.S. '06, materials science and engineering), Applied Physics Laboratory, Johns Hopkins University; and
Dr. Ivan Lee, Catalysis and Fuel Chemistry Energy and Power Division, U.S. Army Research Laboratory.
The departments and our graduate societies would like to thank all of our judges for their generous donation of their time, participation, and feedback!
ResearchFest 2012 was organized and staffed by:
To learn more, see more photos, and download selected presentation slides from the event, visit the 2012 ResearchFest homepage »
Published April 12, 2012