"Team Thirsty Turtles" Wins Spot in National Chem-E-Car Competition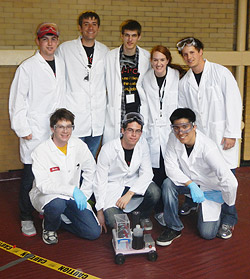 A group of Clark School students known as "Team Thirsty Turtles" took second place in the American Institute of Chemical Engineers' (AIChE) mid-Atlantic regional
Chem-E Car Competition
, held in Hoboken, N.J., in April 2012. The team also won the competition's Best Poster Design award.
The contest challenges teams of students to design and construct a small, chemically powered model vehicle. The cars must carry a specified cargo over a distance only revealed at the competition, and stop as close to a finish line as possible. Any kind of chemical reaction may be used to power the cars, which are not remote-controlled. Each team must carefully calculate the duration of the reaction required when they are told how far their vehicle must travel.
AIChE officials announced a target distance of 60 feet at the finals. Team Thirsty Turtles' zinc-air battery-powered car, The Pride of Maryland, traveled 64 feet, 10 inches, finishing several feet farther from the finish line than the car fielded by the first place team from the University of Pittsburgh. Johns Hopkins University came in third. All three teams earned a spot at the national competition, to be held at the AIChE's annual meeting this fall in Pittsburgh, Penn.
In 2011, the team and its car, Raphael, debuted at AIChE's mid-Atlantic regional conference competition, where they surprised even themselves with a first place win over more experienced teams from the University of Pittsburgh, Bucknell, and Rutgers.
This year, the Thirsty Turtles designed and built a new car based on lessons learned from their work with Raphael, and with fresh perspective from new team members.
"We worked to improve our zinc-air cells," says team member Kevin Bates, a senior majoring in chemical and biomolecular engineering. "We changed our stopping mechanism reaction to [make it] more adjustable compared to last year's reaction. We re-designed our battery enclosure case, and we re-designed our reaction chamber to make it more modular. Our circuitry systems were 'cleaned up' and wired much more efficiently and reliably."
Team Thirsty Turtles includes Department of Chemical and Biomolecular Engineering (ChBE) seniors and returning members Kevin Bates, John Weston "Battery Guy" Breda, Whitney Hollinshead and Leslie Mok; Department of Electrical and Computer Engineering senior and returning member Lucas Hedinger; ChBE juniors Nick Lepak, Amy Nutis, and Wesley Yan; ChBE sophomore Dao Huang; and ChBE freshmen Trae Vanaskey and Isaac Zaydens. The team is advised by ChBE assistant professor Chunsheng Wang and sponsored by the W.R. Grace Foundation.
For More Information:
Visit the Chem-E Car Competition web site at www.aiche.org/Students/Awards/ChemeCar.aspx.
Published April 17, 2012