ResearchFest 2006-2007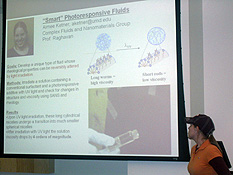 On April 17th, 2007, ChEBES, the Chemical Engineering and BioEngineering Society for graduate students, held its third annual ResearchFest. The event is organized and run by ChEBES members from the Department of Chemical and Biomolecular Engineering (ChBE) and the Fischell Department of Bioengineering (BioE), and is sponsored by both departments.
ResearchFest highlights the best graduate-level research and allows graduate students to share their work with faculty, staff and students from both departments in a friendly setting through slide presentations and a poster competition.
ChEBES invited Dr. Joseph Schork, Professor and Chair of the Department of Chemical and Biomolecular Engineering, and Dr. Helim Aranda-Espinoza, Assistant Professor in the Fischell Department of Bioengineering, to judge the poster competition. The professors provided objective feedback while learning about student research in both departments. Nine students submitted abstracts and prepared posters for the competition, and there were twenty slide presentations by current graduate students.
Gift certificates to Starbuck's, Barnes & Noble, and Chipotle were awarded as prizes to the top three presentations:
First Place: Trent Bradberry (BioE), "Decoding hand position and velocity from magnetoencephalographic signals."
Second Place: Matthew Dowling (BioE), "Hybrid Microcapsules for Targeted Drug Delivery: the 'Mothership' concept."
Third Place: Diana M. Yoon (ChBE), "Chondrocytic IGF-1 Signaling Within a Degradable Biomaterial."
Published April 20, 2007