Sriram Named Keystone Professor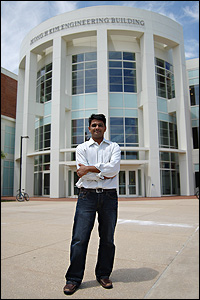 Department of Chemical and Biomolecular Engineering (ChBE) assistant professor Ganesh Sriram has been selected to join Keystone: The Clark School Academy of Distinguished Professors.
The program recruits Clark School faculty who have demonstrated exemplary teaching skills and commitment to excellence in fundamental undergraduate engineering courses. The program serves as a national model for increasing engineering student retention and graduation rates by ensuring students receive the best possible learning experiences in the formative stages of their majors.
"I was delighted to hear about Ganesh's selection as a Keystone Professor," says ChBE chair Sheryl Ehrman, a Keystone Professor herself. "He has developed and implemented many outside-of-the-box techniques to help students grasp tough concepts, and to make learning fun. He is a perfect fit for the Keystone program."
Sriram applied a number of those creative techniques to his section of CHBE 101: Introduction to Chemical & Biomolecular Engineering (previously ENCH 215), a core course concentrating on material and energy balances. He helped students learn the material using assignments that not only required them to develop skills they would require as professionals, but also to think creatively about how to communicate core engineering concepts to others.
In this course, Sriram assigned a group project in which students had to design a board game or online game based on chemical engineering principles. In doing so, the students presented and solved problems they typically would have in the classic assignment of designing a manufacturing plant, but with an added creative element.
"The games had to have a strategy, with multiple ways of doing things," Sriram explains. "The students had to thoroughly research the chemical processes their games were based on in order to accommodate any gameplay situation, because, for example, one [player's] solution might work a lot better in the short run and [another's] might work better in the long run. The game had to have adverse circumstances to make it exciting, like the EPA ordering a player to reduce their carbon dioxide emissions within two turns, or a big piece of equipment failing."
One of Sriram's favorite student games was "Cementopoly," based on Monopoly, in which players had to produce cement by acquiring properties that included mines, equipment, fuel and distributors at different levels of quality and expense, instead of houses and hotels.
The CHBE 101 students were also assigned to interview chemical engineers working in a variety of industries. "We got some interesting data about what chemical engineers in the practice think about certain skills that we teach and don't teach," says Sriram. "Students usually come into engineering programs thinking that their knowledge of math, physics and chemistry is the most important thing, but it turns out that in the real world it's not. Once you use that knowledge to get a job, there are other soft skills that become more important, like people skills, teamwork and writing. Many students were surprised to learn that."
In another of Sriram's undergraduate courses, teams of students practiced researching, writing and the peer review process by creating new Wikipedia entries on topics covered in class. Students wrote collaboratively using Wikipedia's interface and added links and figures, obtaining reproduction permissions when necessary. Using the site's discussion forums, the teams then critiqued each others' work and often received additional feedback from the Wikipedia community.
Sriram will teach his first official Keystone course, BIOE 120: Biology for Engineers, a core requirement for students majoring in bioengineering and chemical & biomolecular engineering, in Spring 2012.
For More Information:
Visit the Keystone program homepage »
Visit Professor Sriram's web site »
Published September 1, 2011