Ganesh Sriram Wins 2022 Poole & Kent Teaching Award for Senior Faculty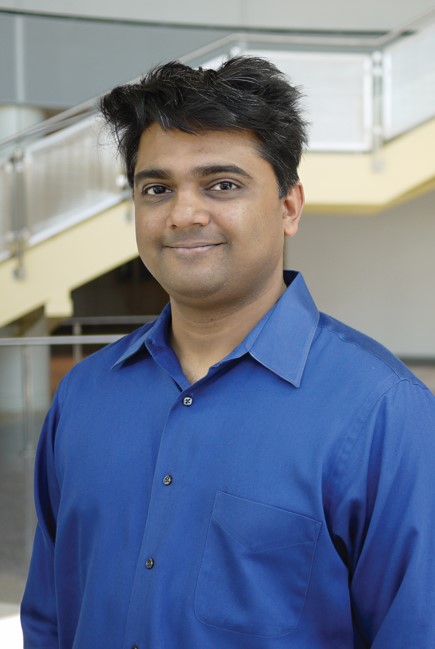 Ganesh Sriram – an Keystone Associate Professor in the Department of Chemical and Biomolecular Engineering, and the Department Associate Chair and Undergraduate Program Director – is the recipient of the 2022 Poole & Kent Teaching Award for Senior Faculty, offered to outstanding faculty members for excellence in teaching. Sriram has been awarded this honor for his dedication to his students, as both an instructor and a mentor.

"Dr. Sriram brings his passion for chemical engineering to the classroom, providing students with engaging learning activities that push them to develop their problem solving skills," said Deborah Goldberg, CHBE Senior Lecturer and Associate Chair for Strategic Initiatives. "His dedication to student success is evidenced by the many hours he devotes to supporting student learning communities and advising students."

After earning his bachelor's and master's degrees in chemical engineering from the Indian Institute of Technology (IIT) in Bombay, Sriram earned his Ph.D. in chemical engineering from Iowa State University in 2004. Prior to joining UMD in 2007, he served as a postdoctoral researcher in the labs of Drs. Katrina Dipple and James Liao at the University of California, Los Angeles. His research interests include systems biology, metabolic engineering, and genetically inherited metabolic disorders. Courses taught include BIOE120: Biology for Engineers, CHBE100: Exploring CHBE and 101: Intro to CHBE, CHBE444: Process Economics and Design, and ChBE484: Metabolic Pathway Engineering.
"A key attribute of Dr. Sriram's teaching is his strong passion for student learning and mentorship," said Peter Kofinas, CHBE Professor and Chair. "His strong passion for mentoring students of diverse learning styles and his commitment to inclusivity are truly evident, as are his high standards of scholarship. He is one of the most popular teachers in the department as well as an inspirational mentor."
Sriram will be recognized at the Spring 2022 commencement ceremony on May 19.
Published May 4, 2022