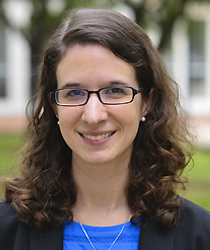 Goldberg, Deborah S.
Senior Lecturer
Associate Chair for Strategic Initiatives

Chemical and Biomolecular Engineering

1223D Chem. & Nuc. Eng. Bldg 090

EDUCATION
Ph.D., Bioengineering, University of Maryland, College Park, 2010
B.S. Chemical Engineering, University of Maryland, College Park, 2006
Assessing the impact of a new 1-credit first year seminar on student confidence, competence and success in chemical engineering
Funded through UMCP Teaching and Learning Transformation Center Fearless Teaching Seed Grant
Development of e-learning modules for biopharmaceutical manufacturing workforce
Funded through NIIMBL (The National Institute for Innovation in Manufacturing Biopharmaceuticals)
Courses taught each academic year:
CHBE410- Statistics and Design of Experiments
CHBE 424- Transport Phenomena II (Heat and Mass Transfer)
CHBE 474/ BIOE 489T/ ENCH 648D- Biopharmaceutical Process Development & Manufacturing (developed elective course)
CHBE 333- Chemical Engineering Seminar  
CHBE 100- Exploring ChBE (co-developed first-year seminar with Ganesh Sriram)
Previously taught courses:
CHBE 101- Introduction to Chemical & Biomolecular Engineering
CHBE 422- Transport Phenomena I (Fluid Dynamics)
D. Goldberg. Fostering Student Engagement and Effective Online Learning during the COVID-10 Pandemic. Chemical Engineering Education. 54(4), 177, 2020.  
D. Goldberg. "Help me help you": Implementing reference request guidelines to improve the recommendation letter process.  Chemical Engineering Education, 54(1), 23-24, 2020. 
D. Goldberg and G. Sriram. Work in Progress: Design, Implementation and Evaluation of a 1-credit Chemical Engineering First-Year Seminar.  126th Annual American Society of Engineering Education Conference & Exposition, Tampa FL, June 15-19, 2019. 
D. Goldberg, R. Lewus, R. Esfandiary, D. Farkas, N. Mody, K. Day, P. Mallik, T. M. Tracka, S. Sealey and H. Samra.  Utility of High Throughput Screening Techniques to Predict Stability of Monoclonal Antibody Formulations During Early Stage Development. J. Pharm. Sci, 106(8): 1971-1977, 2017.
J. Jayaraman, J. Wu, M. Brunelle, A. Cruz, D. Goldberg, B. Lobo, A. Shah and P. Tessier. Plasmonic measurements of monoclonal antibody self-association using self-interaction nanoparticle spectroscopy. Biotechnol. & Bioeng, 111(8): 1512-1520, 2014.
D. Goldberg, V. Nirmalkumar, P. Swaan and H. Ghandehari. G3.5 PAMAM Dendrimer-SN38 Conjugates Enhance Transepithelial Transport of SN38 while minimizing Gastrointestinal Toxicity and Release. J Control Release, 150(3):318-325, 2011.
D. Goldberg, S. Bishop, A. Shah and H. Sathish, Formulation Development of Therapeutic Monoclonal Antibodies using High-throughput Fluorescence and Static Light Scattering Techniques: Role of Conformational and Colloidal Stability, J Pharm Sci, 100(4): 1306-1315, 2011.
D. Goldberg, H. Ghandehari and P. Swaan, Cellular entry of G3.5 PAMAM dendrimers by clathrin- and dynamin- dependent endocytosis is required for tight junctional opening in intestinal epithelia, Pharm Res, 27(8) (2010) 1547-57.
D. Sweet, R. Kolhatkar, A. Ray, P. Swaan, and H. Ghandehari, Transepithelial transport of PEGylated anionic poly(amidoamine) dendrimers: implications for oral drug delivery. J Control Release 138(1) (2009) 78-85.
R. Kolhatkar, D. Sweet, and H. Ghandehari, Functionalized Dendrimers as Nanoscale Drug Carriers, in Multifunctional Pharmaceutical Nanocarriers, Springer 201-232, 2008.
M. Al-Sheikhly, D. Sweet, L. Salamanca-Riba, B. Varughese, J. Silverman, A. Christou, and W. Bentley, Radiation-induced failure mechanisms of GaAs-based biochips, IEEE, Device and Materials Reliability, 4, (2004) 192-197.​