Anisimov Celebrated at International Symposium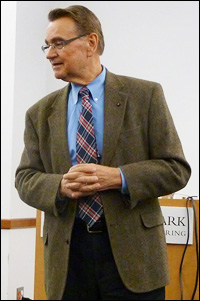 Experts in soft condensed matter systems from around the world met at the International Symposium on Mesoscale and Fluctuation Dynamics, held in honor of the 70th birthday of their friend and colleague, Department of Chemical and Biomolecular Engineering (ChBE) and Institute for Physical Science and Technology (IPST) professor Mikhail A. Anisimiov.
The event, which took place April 27 at the Clark School's Jeong H. Kim Engineering Building, focused on contemporary issues in thermodynamics and statistical physics emerging at mesoscales in a variety of soft condensed matter systems. After the symposium, guests joined Anisimov at a reception and banquet, where they were treated to a performance by Anisimov's daughter, world-renowned cellist Tanya Anisimova.
"Dr. Anisimov has made major contributions to the thermodynamics of phase transitions in simple and complex fluids, both theoretically and experimentally," says his longtime collaborator, ChBE and IPST Distinguished University Professor Emeritus Jan Sengers, who chaired the symposium. "He is a bridge between Russian and American traditions in thermodynamics, a bridge between theory and experiment, and a bridge between science and chemical engineering."
"Dr. Anisimov has had a long and distinguished career that has inspired future generations," Clark School Dean Darryll J. Pines adds. "We are proud of his accomplishments."
Anisimov received his Ph.D. in Physical Chemistry and Chemical Physics from Moscow State University in 1969, and a D.Sc. in Molecular and Thermal Physics from the Kurchatov Institute of Atomic Energy, Russia, in 1974. Prior to joining the University of Maryland, his numerous academic appointments included serving as professor and chair of the Moscow State Academy of Oil and Gas' Department of Physics and department head of the Russian Academy of Sciences' Institute for Oil and Gas Research.
Anisimov's research interests include critical phenomena and phase transitions in fluids, fluid mixtures, liquid crystals, and surfactant and polymer solutions. He also studies the applications of photon-correlation spectroscopy and high-resolution adibatic calorimetry to soft condensed-matter materials.
He arrived in College Park in 1994 as a visiting professor at IPST, and became a research scientist and affiliate professor at the institute in 1996. He has been a full-time faculty member with ChBE and IPST since 2002, and currently holds affiliate appointments in the Department of Chemistry and Biochemistry and the university's Chemical Physics Program. During his tenure, he has also served as a Distinguished Visiting Professor at The Petroleum Institute in Abu Dhabi, UAE. In 2007, he received the Clark School's Poole & Kent Teaching Award for Senior Faculty.
Anisimov is the author or co-author of over 200 publications, including books, chapters, refereed journal articles, and reviews. He is an elected fellow of the American Association for the Advancement of Science, the American Physical Society, International Academy of Refrigeration, and the Newtonian Society. He is also a member of the New York Academy of Sciences and the Washington, D.C. Cosmos Club. The International Symposium on Mesoscale and Fluctuation Dynamics was sponsored by IPST, ChBE, and the University of Maryland's Institute for International Programs.
Published May 4, 2012