Lyles to Speak at Commencement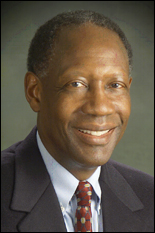 Retired U.S. Air Force Gen. Lester L. Lyles will be the commencement speaker at the Clark School's commencement ceremony on May 21 at 4 p.m. in the Comcast Center.
Gen. Lyles served as vice commander and then commander of Ogden Air Logistics Center at Hill Air Force Base in Utah before he was assigned to command the Space and Missile Systems Center at Los Angeles Air Force Base. He also served as director of the Ballistic Missile Defense Organization and vice chief of staff of the U.S. Air Force. In 2000, he became commander of the Air Force Materiel Command, Wright-Patterson Air Force Base, Ohio. He retired in October 2003.
The student speaker will be Brennan Keegan, an electrical engineering major. A contingent of Golden Terps (alumni celebrating their 50th, 55th, 60th, 65th (and so on) reunions) will lead the Clark School's procession. The Clark School will announce the winner of the Poole and Kent Teaching Award for Senior Faculty at the ceremony.
The Clark School will hold a reception for graduates and their families prior to the school's commencement ceremony. The event will be held at the Jeong H. Kim Building at 1 p.m. Graduates should RSVP online by May 17.
The main university commencement ceremony will take place at 1 p.m. on Sunday, May 20, at the Comcast Center.
Published May 4, 2012