Anisimov Elected to Cosmos Club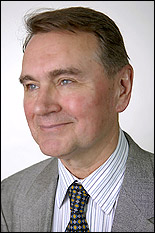 Congratulations to Professor Mikhail Anisimov, who has been elected to the membership of the
Cosmos Club
, a private Washington, D.C. social club that serves as a community for professionals "of intellectual distinction" in the arts and humanities, literature, and the sciences. The club, established in 1878, promotes scholarship and public service, offers lectures and social activities to members, and provides research grants to D.C.-area graduate students through the Cosmos Club Foundation.
According to the Cosmos Club web site, the highly selective organization's membership has included "three Presidents, two Vice Presidents, a dozen Supreme Court justices, 32 Nobel Prize winners, 56 Pulitzer Prize winners and 45 recipients of the Presidential Medal of Freedom."
Anisimov will join other notables from the University of Maryland community, including former university president C. D. (Dan) Mote, Jr., former A. James Clark School of Engineering interim dean Professor Herb Rabin, and fellow ChBE faculty member Distinguished University Professor Emeritus Jan Sengers.
Published April 11, 2011