Anisimov Wins Clark School Faculty Teaching Award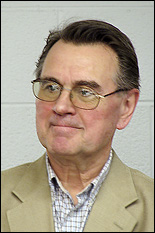 Department of Chemical and Biomolecular Engineering Professor Mikhail Anisimov has received the 2007 Poole and Kent Company Senior Faculty Teaching Award, which was presented to him May 21 at the Clark School's spring commencement ceremony.
Clark School Dean Nariman Farvardin cited Anisimov's commitment and dedication to teaching, enthusiasm in the classroom, availability to students, and key role in the revision and improvement of the undergraduate thermodynamics curriculum as factors in his selection for the award.
Anisimov, who holds joint appointments with the Institute for Physical Science & Technology (IPST) and the Chemical Physics Program, specializes in mesoscopic and nanoscale thermodynamics, critical phenomena, and phase transitions in soft matter. He is an Elected Fellow of the International Academy of Refrigeration, the American Association for the Advancement of Science, and the American Physical Society; and is an Elected Member of the New York Academy of Sciences. In 2006 he was recognized for outstanding volunteer service to the American Institute of Chemical Engineers (AIChE).
Published May 21, 2007