Wang Wins Faculty Service Award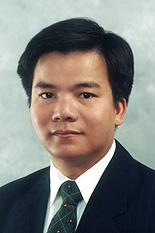 Department of Chemical and Biomolecular Engineering Associate Professor Nam Sun Wang is this year's recipient of the Clark School Faculty Service Award. The award was presented to him May 21 at the Clark School's spring commencement ceremony.
The Faculty Service Award is given to a faculty member whose service to his or her department, to the Clark School, and to the university has been judged outstanding in terms of esprit de corps, innovation, committee and advising work, community activities and additional factors. Dr. Wang serves as the main faculty advisor for the Chemical Engineering and Bioengineering Society graduate student group chapter. He has also served as advisor for the American Institute of Chemical Engineers student chapter, on the Undergraduate Studies Committee and as a liaison to the Professional Masters Program. Dr. Wang was director for undergraduate studies in his department for 10 years as well. He has devoted more than 10 years to "K-12" outreach—one colleague remarks he has spent untold hours talking about engineering at middle schools and high schools. Colleagues note he is an eager volunteer whenever help is needed. Congratulations, Dr. Wang!
This academic year, all three of the Clark School's faculty awards have gone to Chemical and Biomolecular Engineering professors: Professor Mikhail Anisimov won the Poole and Kent Company Senior Faculty Teaching Award, also announced at spring commencement, while Associate Professor Sheryl Ehrman won the E. Robert Kent Outstanding Teaching Award for Junior Faculty in late 2006. This is a remarkable achievement for one department!
Published May 21, 2007