Wiest Wins Prestigious Boren Language Scholarship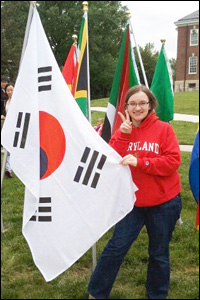 Clark School Department of Chemical and Biomolecular Engineering (ChBE) sophomore Lisa Wiest has been awarded a Boren Scholarship to spend the 2012-2013 academic year studying Korean at
Yonsei University
in Seoul, South Korea.
The Boren Scholarship, awarded by the U.S. Department of Defense, provides up to $20,000 for two or more semesters of language-focused study abroad in regions important to U.S. interests. This year, over 1000 students from around the country applied for one of the 161 scholarships available. Wiest was one of eight students from the University of Maryland, and the only one from the A. James Clark School of Engineering, to receive one.
Wiest, who minors in international engineering, is currently a member of ChBE professor Kyu Yong Choi's research group, in which she works on a project synthesizing carbon nanotubes on silicon substrates for use as anodes in lithium-ion batteries.
Choi, who routinely encourages students to study abroad, has supported her interest in learning Korean, and helped her apply for the Boren Scholarship. He originally met Wiest during her freshman orientation when she approached him after he gave a talk on the subject.
"Lisa came to me and she said she wanted to study abroad in Asia," he recalls. "I suggested that if she wanted to go to Korea, I could help because I have many friends in academia and industry there." Wiest accepted, asked to become his advisee, and joined his research group soon after.
While Wiest had previously formally studied French, Chinese, and Japanese, she decided to learn Korean on her own over the past two years through what she describes as "intensive independent study." She was attracted to the Boren Scholarship program over other study abroad opportunities because of its specific focus on learning a language.
"I had already been working with Professor Choi to consider research or an internship in Korea and I really wanted a chance to improve my Korean," she explains. She says Choi is helping her connect with his colleagues at Yonsei University in the hope that she might be able to join a lab during her time there.
"The language skills, cultural experience, and initial networking with Korean researchers and students will all be incredible assets in Lisa's future career," says Choi.
For More Information:
Visit the Boren Awards for International Study web site »
Published May 4, 2012