Boren Language Scholar Pursues Research, Cultural Studies in Korea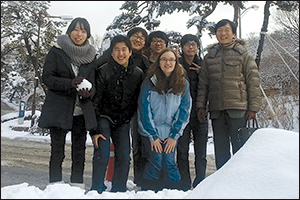 In an earlier story
we told you about ChBE sophomore Lisa Wiest, who was awarded the U.S. Department of Defense's prestigious Boren Language Scholarship to spend the 2012-2013 academic year studying Korean at
Yonsei University
in Seoul, South Korea. We checked in with her over the Korean Lunar New Year holiday in early 2013 to find out how she spent her first semester abroad.
In the fall, Wiest took courses in biochemistry and Korean language and culture. Thanks to connections made through her advisor, ChBE professor Kyu Yong Choi, she has also joined Yonsei University professor Il Moon's research group, which focuses on process systems engineering. In the lab, Wiest has been learning software applications used in computational fluid dynamics, and has been working with some of the team's graduate students on the development of a model of part of the residue fluidized catalytic cracking process. She plans on taking a course in reaction engineering–the equivalent of ChBE's kinetics course–in the spring.
Wiest says the informal learning that comes with a study abroad experience has been even more valuable than what she has learned in the classroom. "On the one hand," she tells us, "I've learned a lot about Korean culture and language, but [the overall experience] provides a framework for learning more about myself, and what it means to be an American."
Wiest hopes her year abroad and the friends and contacts she makes in Korea will ultimately lay the groundwork for her career. "I hope to tie my career to Korea in the future," she says, "whether it be working for a Korean company looking to expand in the U.S., or a U.S. company in Korea."
Published February 25, 2013