Subramanian Wins Travel Awards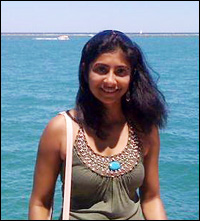 Department of Chemical and Biomolecular Engineering graduate student Deepa Subramanian, advised by Professor Mikhail Anisimov, has received two University of Maryland Graduate School travel scholarships, the International Conference Student Support Award and the Jacob K. Goldhaber Travel Grant.
Subramanian will be using the awards to fund her trip to the 25th European Symposium on Applied Thermodynamics, to be held in St. Petersburg, Russia in June 2011, where she is scheduled to deliver a presentation on her research, titled "Self-assembly of small organic molecules in aqueous solutions."
"Generally when people think of self-assembly, they think about surfactants or polymers," she explains. "Our research group is focused on understanding a novel type of self-assembly—that of small organic molecules in aqueous solutions. My work has yielded good results, and this conference will be a great opportunity to share them and interact with an international group of people who are all experts in thermodynamics."
"I am very excited to have [received] these awards," she adds. "I have presented at local conferences, as well as national conferences within the United States; however, this will be my first opportunity to present at an international conference. I wish to pursue an academic career in the future, and having the opportunity to be part of an international symposium as a graduate student feels like a huge encouraging step in that direction."
Jacob K. Goldhaber Travel Grants are awarded to help students defray the cost of national and international travel to scholarly, scientific, or professional conferences at which they will be presenting their research. The International Conference Student Support Awards, recently established by University of Maryland President Wallace Loh in cooperation with the Graduate School, is part of a selective pilot program designed to support students who have been invited to present their work at major international conferences. For more information, please visit the Graduate School web site.
Published March 18, 2011