Gonzales, Subramanian Win Department Research Awards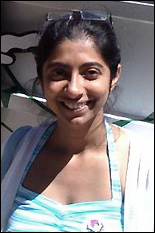 ChBE is pleased to extend its congratulations to Patricia Gonzales and Deepa Subramanian, winners of the inaugural 2009 Chemical and Biomolecular Engineering Ph.D. and M.S. Awards, respectively. The graduate students were honored for outstanding scholastic achievement and contributions to the profession and department.
Gonzales, co-advised by Professor Nam Sun Wang and Dr. Mark Knepper (National Institutes of Health [NIH]), was recognized for her work on her dissertation, titled "Proteomic Analysis of Human Urinary Exosomes." Her research focused on the development of a new way to detect kidney disease much earlier in its development, with a urine test simple enough to be performed in a doctor's office. Typically, a tissue biopsy is required to make a diagnosis. Gonzales' role in the project was to find a simple way to sense, capture and analyze exosomes, protein molecules excreted in urine, which may contain biomarkers for disease.
"Patricia was selected from a very strong pool of nominees," says Associate Professor Sheryl Ehrman, ChBE's graduate program director. "She has developed techniques that could lead to important new diagnostics based on urinary biomarkers, and she has also used them to identify Bartter syndrome type I [an inherited kidney defect]. Her research since joining the department as a Ph.D. student has led to six publications to date, and her work has already been cited 80 times."
Gonzales received her Ph.D. in May 2009, and is currently a postdoctoral fellow at the Laboratory of Kidney and Electrolyte Metabolism, part of the National Heart, Lung and Blood Institute at the NIH.
Subramanian, co-advised by Professors Ray Adomaitis, Mikhail Anisimov, and Jan Sengers, was recognized for her work on her master's thesis, titled "Phase Behavior and Interfacial Phenomena in Ternary Systems." Her research examines the behavior of multi-component systems. Applications include understating solubility and miscibility in biological systems such as proteins and lipids in a cell; and understanding critical phenomena in fluids, where super-critical fluids like CO2 can be used for enhanced oil recovery.
"I believe thermodynamics is a classical science which has a variety of modern applications," she says of her work. "I try to understand mescoscale thermodynamics to enable us to apply it to scaled-down systems such as microchips, microreactors or microfluidic devices. I hope the quality of my research will help us understand complicated systems, and enable us to build better and more efficient tools and systems."
Subramanian is currently completing her thesis and intends to continue her studies toward a Ph.D. beginning in Fall 2009.
Published June 18, 2009