Subramanian Wins GRID Session for Talk on Colloidal Systems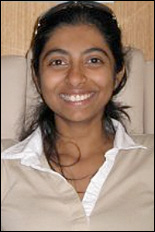 Department of Chemical and Biomolecular Engineering graduate student Deepa Subramanian, advised by Professor
Mikhail Anisimov
, won the "Pushing the Boundaries of Science" division at the University of Maryland's 2012
Graduate Research and Interaction Day
(GRID). Subramanian received the award for her presentation, based on a segment of her dissertation research, that outlines how to create colloidal systems that remain stable over long periods of time.
Colloids—materials comprised of particles evenly dispersed in a solid, liquid or gas—are represented by hundreds of everyday products, including milk, hairspray, foams, and paint.
"This research work has an enormous industrial impact, as most liquid-based products in the pharmaceutical, consumer goods, food, and agricultural sciences industries are colloidal systems," Subramanian explains. "Stability or phase separation in such products is an industrial problem and a lot of research goes in keeping them stable."
Working with her colleagues in the Anisimov/Sengers research group, Subramanian has developed a novel material from the self-assembly of small organic molecules in aqueous solutions that exhibit unusually long-term stability.
"[Our materials'] stability is attributed to the inherent structure of the components involved in creating the colloidal material," says Subramanian. "The goal of this work is to reproduce and replicate these material properties in a controlled fashion."
GRID, which is run by the Graduate Student Government, is a campus-wide event in which graduate students from all parts of the university present and discuss their work with faculty and fellow students, enabling them to receive feedback from a broader audience and perfect their conference presentation skills. Participants make oral and poster presentations that are judged in a variety of categories by faculty, postdoctoral fellows, administrators, and other specialists from around campus.
Published April 19, 2012