Subramanian Wins Best Poster Award at Water Conference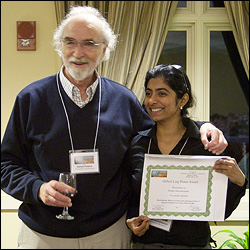 Department of Chemical and Biomolecular Engineering graduate student Deepa Subramanian, advised by Professor Mikhail Anisimov, received the Gilbert Ling Poster Award at the
Sixth Annual Water Conference
, held October 20-23 in West Dover, Vt.
Subramanian's poster, titled "Resolving the Nanoscale Inhomogeneities in Aqueous Solutions of Tertiary Butyl Alcohol," explored inhomogeneities (structural inconsistencies) that occur in many organic solutions that appear homogenous at the macroscopic scale, but not when observed at the nanoscale. The causes of these scale-based differences are currently debated in scientific literature and have not yet been resolved. Based on their work on aqueous solutions of tertiary butyl alcohol, Subramanian and her colleagues believe that the inhomogeneities occur due to the presence of trace amounts of specific impurities in the solution that interact with the inherent solution structure and lead to the formation of long-lived non-equilibrium structures.
"This kind of mysterious structure is observed in many aqueous organic solutions, namely alcohols, amines, and ethers," she explains. "Since aqueous solutions are abundantly present in nature, it is very important for applied reasons to understand their properties. Understanding the behavior of small molecules in water will allow us to build materials with certain specific properties—for example, stable colloids, which would have applications in the pharmaceutical, food, or oil and gas industries—and will also pave the way for better understanding protein solutions. This fundamental work will also enhance our understanding of water, which, despite being ubiquitous in nature, still has its own mysterious properties."
Subramanian called the Water Conference one of the most interesting she has ever attended. "There were a lot of new, unconventional ideas [presented]," she reports. "I also got a chance to interact with two nobel laureates there, Dr. Brain Josephson, who won the Nobel Prize in Physics in 1973, and Dr. Luc Montagnier, who won the Nobel Prize in Medicine in 2008, and talk to them about my work. It was an exhilarating experience!"
Published November 4, 2011