Chou Wins Travel Grants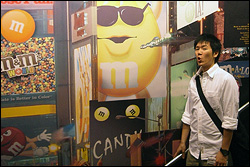 Department of Chemical and Biomolecular Engineering graduate student Szu-Ting (Justin) Chou has received two travel scholarships: the University of Maryland's Jacob K. Goldhaber Travel Grant and an American Society of Gene and Cell Therapy (ASGT) Travel Grant.
Chou, who is focusing on the development of in vitro and in vivo vehicles for nucleic acid (DNA, RNA) delivery, is co-advised by Assistant Professor A. James Mixson, M.D. (Department of Pathology, University of Maryland School of Medicine) and Assistant Professor Joonil Seog (Fischell Department of Bioengineering/Materials Science and Engineering).
Chou's ASGT award funded his trip to the society's 14th Annual Meeting in Seattle, Wa. in May 2011, where he delivered a presentation about his work titled "A Modified HK Carrier of siRNA Enhances Silencing of Tumor Targets In Vivo." He was one of only sixty authors selected to receive a grant among the thousands who submitted abstracts to the conference.
The presentation covered some of Chou's current research, in which he is evaluating histidine-lysine rich peptides (amino acids) to determine their suitability as carriers of small interfering RNA (siRNA) in gene therapy-based cancer treatments. Chou modified his carrier peptides to more accurately target specific types of cancer cells and deliver their cargo more efficiently. The siRNA the peptides carry inhibits the expression of genes that cause tumor growth. Chou and Seog, in collaboration with Associate Professor Jason Kahn (Department of Chemistry and Biochemistry), are also working to identify the biophysical properties that play important roles in siRNA delivery.
While Chou's most recent study targeted breast and skin cancer cells, his research group's goal is to create a treatment template that can be used to fight a variety of cancers.
"I am honored to [have been] awarded both of the travel grants," says Chou. Attending the ASGT conference, he adds, "was a good opportunity to share my work with people from all over the world, as well as stimulate and refresh my mind."
Published June 9, 2011