Deborah Goldberg Honored for Outstanding Performance to Engineering at Maryland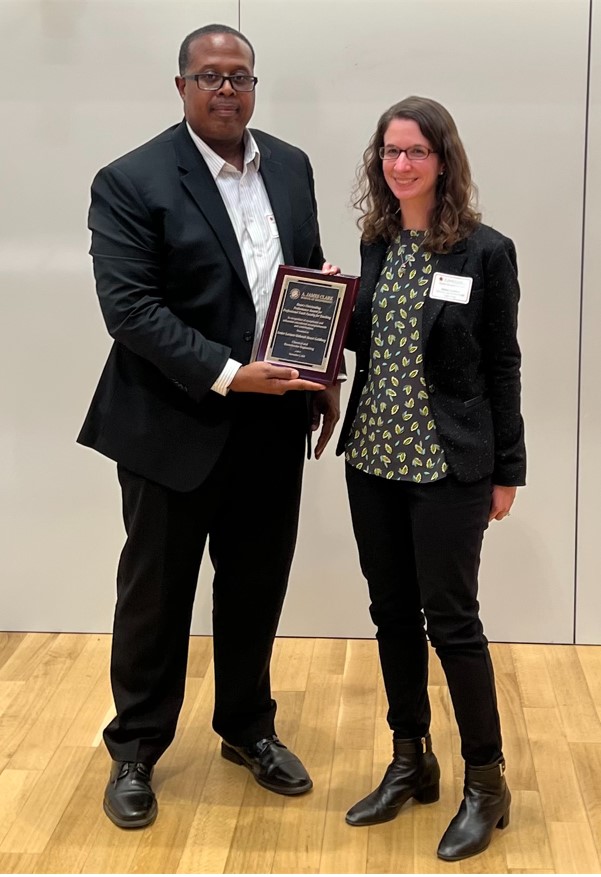 Deborah Goldberg, a senior lecturer in the University of Maryland (UMD) Department of Chemical & Biomolecular Engineering (ChBE), is the winner of the 2021 Outstanding Performance Award for Professional Track Faculty.
The Outstanding Performance award for Professional Track Faculty was instituted in 2020 by the Dean of the A. James Clark School of Engineering. The award, the highest offered by the college, recognizes exceptionally influential accomplishments in research and/or teaching.
Goldberg, who received her bachelor's degree in chemical engineering ('06) and Ph.D. in bioengineering ('10) from UMD, joined the chemical engineering faculty in 2016. Since then, she has made significant contributions to the mission of the chemical engineering undergraduate program, especially in the areas of teaching and curriculum development. Goldberg has taught seven unique ChBE courses including four core courses, one elective course and two seminar courses.
"In every course I teach, I strive to implement student-centered teaching practices, and provide ample resources so that every student can succeed," said Goldberg.
In the ChBE core courses, for example, she built upon well-established curriculum, improving student learning through engaging lectures, active learning exercises and assessments designed to probe fundamental understanding. In 2020, Goldberg completed a course-redesign for ChBE410 through the Elevate Fellows program. The redesign focused on reducing the achievement gap between students with different academic backgrounds, specifically those who have taken AP statistics and those who have not, and improving student engagement through inclusion of active learning and chemical engineering-based examples. What's more, Goldberg designed a student mentoring program geared towards transfer students, often coming from a local community college, who struggle to make the transition to the more intense UMD curriculum.
A favored instructor of many students, Goldberg consistently receives high evaluation scores and is often credited with encouraging students to push through the rigorous chemical engineering curriculum, not letting them give up. Follow this link to read about Goldberg's impact on ChBE Alumni Joe Sciamanna's career.
Goldberg was honored for her contributions at an engineering faculty recognition event on November 1.
Published November 5, 2021