ChBE101 Students Participate in Pilot Student-Mentoring Program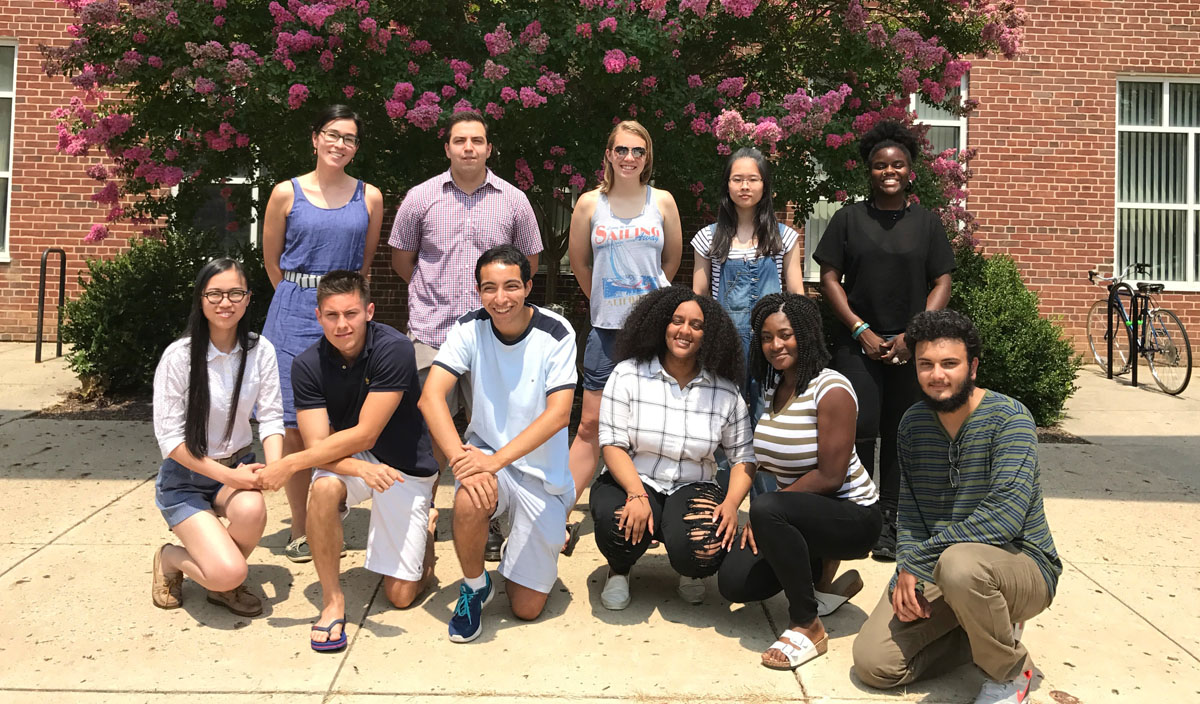 Students transferring to the University of Maryland from two-year community colleges are required to take ChBE 101 – their introduction to chemical engineering – during the summer semester, but many find the intensive six-week course overwhelming. These students, who are all new to campus, typically look at a challenging transition period, to say the least.
"As an advisor, I saw many of my transfer advisees struggling with this transition, which extended into struggling in the fall semester," said Deborah Goldberg, a lecturer in the Department of Chemical and Biomolecular Engineering. "I thought that having an upperclassmen mentor, particularly one who also transferred from community college would really help to ease the transition of these students into our program. While I can advise them on study skills, adjusting to campus, etc., it is much more impactful coming from a student who recently went through the process."
The summer cohort also includes internal UMD transfers, as well as students who need to re-take the class. Goldberg figured these populations could also benefit from an upperclassmen mentor, so she went about putting the program into action. By the end of 2017 spring semester, Goldberg had recruited eight (soon-to-be) senior mentor volunteers: Soliver Fusi, Deiaa Harraz, Brendan Hensel, Tanya Kiryutina, Ricky Morales, Nina Uchida, Hanchu Wang, Samantha Weaver.
The program kicked off over the summer semester, June 8 – July 6, 2017, with a 'panel discussion' class, during which the eight mentors introduced themselves and offered 35 students advice on how to study for exams, exam taking strategies, fitting in as a "non-traditional" student, the importance of study groups, and the psychological aspects of succeeding in such a challenging major. Students had a chance to ask questions and to talk to the mentors individually afterwards. After the event, students were matched into groups of 4-5 students per mentor.
Throughout the rest of the summer, the student/mentor groups met multiple times, in and outside of class, to discuss student progress. Social engagements also became the norm, and several friendships developed as a result.
ChBE rising senior and volunteer mentor, Nina Uchida, suggested more interaction between the upper and lower classmen would also be beneficial. "The transition as a transfer student last year into the summer ChBE program was tough for me," she said. "I personally would have benefited from having a peer mentor who had been through the same experience, and could offer support and advice. I think the summer program was successful, and I am looking forward to keeping in touch with my mentees in the upcoming academic year!"
The course and program received very positive feedback overall. Indeed, when asked in an anonymous survey offered by Goldberg, "What was your favorite part of the mentoring program?", student responses had a similar theme, which included:
"All of it. It really helped to reduce the anxiety for summer class. The mentors are survivors, and it made me believe that I can also do this."
"I think the program is helpful because it gives you someone to refer to when you have questions. I think the important thing is just knowing you have someone to reach out to, especially being new to the major and not knowing many ChemE's."
"It is great to have someone who has similar experience to walk us through the summer. It also helps us to start building a network…. Whoever started this mentor program did a great job helping students get together."
"Finding someone relatable to me. Someone that shows that struggling is normal, and in the end you will succeed because the struggling makes you stronger."
Based on such positive feedback, Goldberg intends to offer this mentoring program again during the academic year.
"Although it was originally designed with transfer students in mind, I believe all new chemical engineering students can benefit from a mentor who has 'been there/ done that' and succeeded," she said. "It also provides a great leadership opportunity for upper-class students and fosters departmental community. Overall I am very happy with how the pilot program went and excited to see how we can improve it over time to serve student needs the best."
Published August 28, 2017