Chemical Engineering at Maryland On the Rise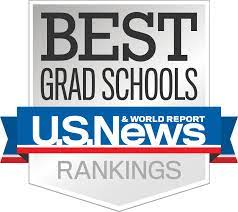 The University of Maryland (UMD) Department of Chemical Engineering (ChBE) saw a significant rise in the 2022 U.S. News and World Report Graduate Rankings, moving up four spots among public institutions, to #19 from #23, and six spots in the overall ranking, to #30 from #36.
Chemical engineering was the only department in the A. James Clark School of Engineering with improved ranking this year; moreover, the reputation score went up from 2.9 last year to 3.2 this year.
"This is a big jump -- the highest jump in reputation we have ever had and the highest we have ever ranked!" said Peter Kofinas, ChBE Professor and Chair. "I want to thank the entire department for their hard work and commitment. All department members have built and sustained the excellence and momentum this ranking reflects. We will continue to invest in growing our research efforts, improving our student educational experiences, and promoting a culture of equitable and welcoming learning and working environments for all of our students, staff, and faculty members."
An important aspect of the ChemE student experience is plenty of hands-on lab experience, with industry and governmental connections. For example, projects with Akua Asa-Awuku, ChBE Associate Professor, range from an U.S. Army Research Lab (ARL)-funded initiative to classify aerosols with continuous, real-time measurements; to a National Science Foundation (NSF)-funded effort to visualize the dynamic nanoscale processes that drive cloud droplet formation and influence climate; to a Bill & Melinda Gates Foundation-funded exploration of the measurement and transport of COVID-19 and other airborne disease aerosols.
Chunsheng Wang, ChBE Professor and director of the Center for Research in Extreme Batteries, continues to make headlines with his energy storage technology. Wang mentors a large team of graduate students and postdoctoral researchers working on solutions to accelerate non-flammable, high-energy batteries for commercial and military use. Over the last few years, students in his research group published studies on aqueous lithium-ion batteries in Science and Nature, organic electrolyte li-ion batteries in Nature Energy, Nature Nanotechnology, and solid state electrolyte lithium batteries in Nature Energy. Several of Wang's mentees have gone on to work for academic institutions.
"I encourage my students to think creatively and solve challenges posed by the need to develop safer, high-energy li-ion batteries, "said Wang. "It's critical for their future careers to have this opportunity to innovate while being supported by DOE and ARL funding."
Additionally, Jeffery Klauda's graduate students have been assisting with COVID research as of late, while Taylor Woehl's lab provides opportunity for students to contribute to nanotechnology studies with funding provided by ARL and the National Science Foundation (NSF). Early on in the pandemic, Dongxia Liu and Chen Zheng recruited students to assist with the production of Terpsanitizer, a project that was funded by Northrop Grumman.
Department alumni help to increase awareness as well. Joe Sciamanna, who completed his bachelor's degree in chemical engineering in 2019, went on to form Heliostatix Biotechnology. Sciamanna recently sold the company to fund his MBA studies at Harvard and decided to give back to the department by creating the Joseph Sciamanna Endowed Scholarship for Innovation in Chemical and Biomolecular Engineering, which is geared towards undergraduate students who distinguish themselves through entrepreneurship and/or innovation.
Published April 13, 2021