Vitamin-Size 'Factories' Make Useful Products When 'Switched On'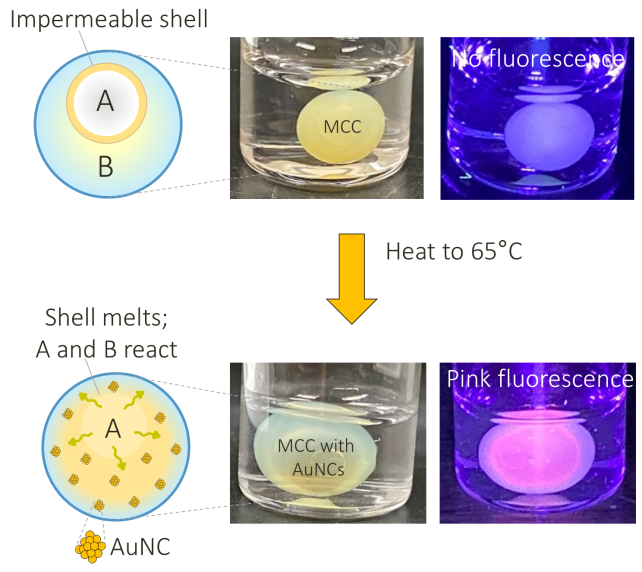 Scientists have long been fascinated by the cells in our body and their remarkable capabilities. Biological cells have smaller compartments inside them, called organelles. Each organelle has its own distinct contents, which dictate its role in the cell, such as the synthesis of proteins or lipids, or the storing and harvesting of energy. Importantly, all the synthesis in a cell is done 'on-demand,' meaning just when it is needed.
Taking a cue from these natural capabilities, a research group at the University of Maryland (UMD) Department of Chemical and Biomolecular Engineering (CHBE) led by CHBE Professor Srinivasa Raghavan have created millimeter-sized capsules that emulate the cell's ability to synthesize products on-demand. The study, published in Advanced Functional Materials, was done in collaboration with Shashi Karna, a senior research scientist at the Army Research Laboratory (ARL) at Aberdeen Proving Ground.
"As a chemical engineer, I teach students how to design a factory that can make a useful product by a chemical reaction," said Raghavan. "But the amazing thing about a cell is that it is a tiny factory with an on-off switch! All the reagents needed for synthesis are contained in the cell, but no reaction takes place until the cell (biochemically) turns it on."
In the study, the team describes the creation of cell-like multi-compartment capsules (MCCs), having multiple inner compartments. For the MCC to serve as a "miniature factory," different reagents are loaded in the compartments, which are then sealed by shells made of wax. Because wax is hydrophobic and impermeable, the reagents remain separated; thus, the factory is inactive at the outset.
When these synthetic cells – no larger than a multivitamin tablet – are placed in warm water (65°C), the wax melts and this brings the reagents into contact with one another. This 'thermal switch' triggers a catalytic reaction resulting in a chemical product. The approach can be used to synthesize gold nanoclusters (AuNCs; see figure), which are fluorescent and thereby useful as sensors and in bio-imaging.
Such technology – easily transportable and usable without the need for lab equipment – could have numerous applications, both in military and civilian settings. The study was funded by the Army Research Office (ARO). Raghavan and his Ph.D. students, Kerry DeMella and Sai Nikhil Subraveti, collaborated with Karna and his research associate, Karima Jeneh Perry.
Karna and Raghavan envision that, in the future, their capsule factories could be carried by soldiers or military medics on the battlefield, or astronauts on the International Space Station (ISS), and used to make diagnostic nanoparticles or drugs at remote locations, as and when needed.
For additional information:
DeMella, K., Subraveti, S. N. et al. (2022). Capsules as Miniature Factories: On-Demand Synthesis in Prepackaged Capsules Enabled by Switching on a Catalytic Reaction; Advanced Functional Materials. DOI: 10.1002/adfm.202110191
Dr. Raghavan's research group:
Complex Fluids and Nanomaterials Group
Published April 18, 2022