Chen and Raghavan Nominated for UMD Invention of the Year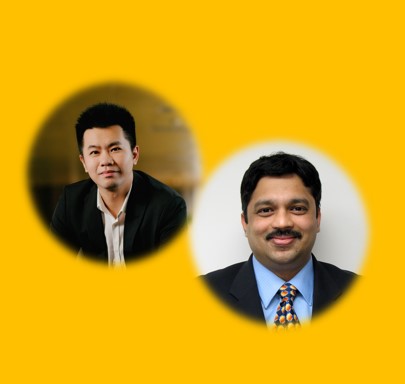 Po-Yen Chen and Srinivasa Raghavan, both professors in the University of Maryland (UMD) Department of Chemical and Biomolecular Engineering (CHBE), have been nominated for the 2022 UMD Invention of the Year award.

Chen was nominated in the category of Information Sciences for his research, "Hardware Anti-Counterfeiting Method," called MantaCode – a security technology that uses two dimensional (2D)-material tags and artificial intelligence (AI)-enabled authentication software. MantaCode works faster and more accurately that current technology on the market. What's more, the ID tags are highly durable and can be applied to various high-value products such as medication, jewelry and electronics.
"MantaCode exhibits Physically Unclonable Function (PUF) patterns, which are randomly generated by systematically crumpling of the 2D-material thin films," Chen said. "These complex patterns can then be classified and validated by a well-trained deep learning model, enabling 100% accurate authentication in less than 3.5 minutes."
Raghavan was nominated in the Life Sciences category for his work on a "Suture-free Repair for Surgery, Cuts and Wounds" made of hydrogel. Leah Borden, a ChBE Ph.D. Student working with Raghavan who served as first author on the study, was keen to analyze a human health problem via a medical lens.
"When the idea to adhere gels to tissue was suggested by Dr. Raghavan, I started looking at tubes in the body that might need repair, and blood vessels made the most sense," she said. Borden purchased bovine tissue from a local butcher shop, and then cut a piece of the aorta (the main artery) and sandwiched it together with a non-sticky hydrogel. She then applied an electric current to the 'gel-aorta sandwich' – surprisingly, the two materials stuck together. When the polarity of the current was reversed, the gel easily detached.
The researchers call this phenomenon "electroadhesion." These electroadhered gel-patches can provide a seal over cuts, or openings, in tissue, while a gel "sleeve" could rejoin pieces of a severed tube. This technique could replace sutures in surgical settings, also having applications in soft robotics, 3D printing, the automotive industry, and beyond.
The winner will be announced at this year's Innovate Maryland event – scheduled for Tuesday, May 10 at The Hall, College Park – where finalists will be recognized as well.
Published April 19, 2022