UMD Solar Decathlon Team Takes 1st Place in the U.S., 2nd Place in the World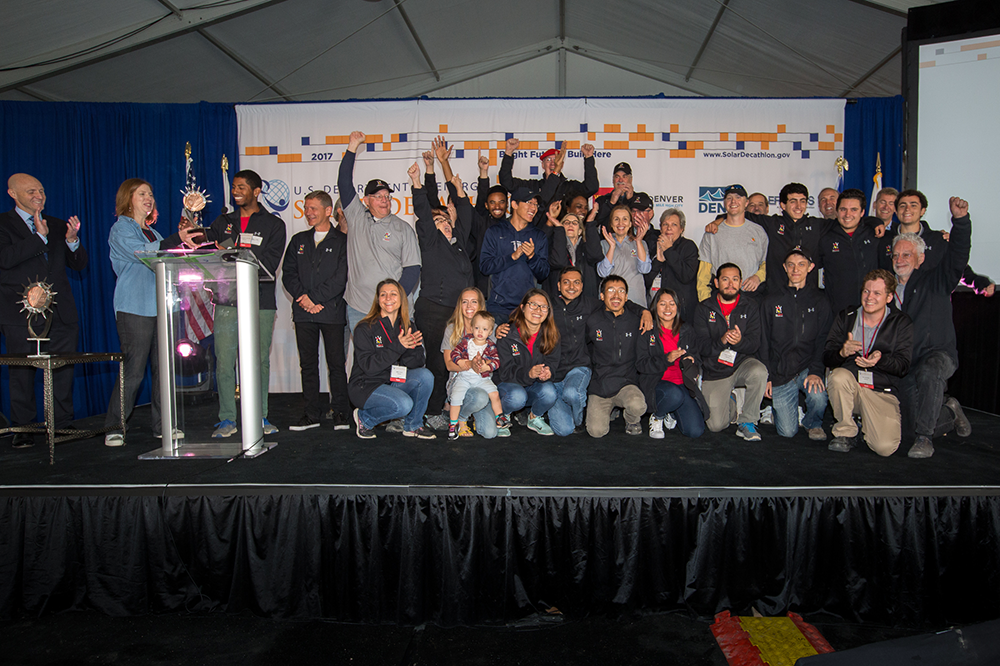 The University of Maryland's entry into a competition sponsored by the U.S. Department of Energy that challenges collegiate teams from around the world to design and build energy-efficient, solar-powered houses took second place overall and was the top design from the United States.
UMD's entry into the 2017 Solar Decathlon, resilient Adaptive Climate Technology (reACT), seeks to improve sustainability in four ways and includes a hydroponic garden, "living walls" within its courtyard, modular living elements, predictive automation, and design elements that simplify future upgrades to the house. Designed by an interdisciplinary team of students, the prototype house beat nine other collegiate teams from around the globe. UMD has placed in the top two each time it has competed in this international competition in the last 10 years (2007, 2011, 2017), with a first place win for its WaterShed house in 2011.
The two-year process—which spans from concept drawings to the construction of a physical house—culminates in a 10-contest competition lasting nine days, this year in Denver. Competitions included evaluations of each home's performance, design, sustainability, and market appeal. This is the first year that teams are eligible for cash prizes; UMD will bring home $225,000.
"This prestigious competition engages students from across the country and internationally to develop the skills and knowledge to become the next generation of energy experts," said Linda Silverman, director of Solar Decathlon.
reACT intertwines Indigenous knowledge systems with western scientific thinking to create a structure that represents both thought processes. Team Maryland worked closely with the Nanticoke Indian Tribe, who, for millennia, have harvested the resources of the Delmarva Peninsula while minimizing waste and impact. With the goal of creating a space for First Americans to be self-sustaining and revive their traditional ways, reACT incorporates modern advances to provide the best atmosphere for growth.
"From the crops grown to the herbs and spices used as medicines in the hydroponics system, this will allow natives to live away from their traditional lands and still be able to utilize the knowledge passed down from generation to generation. To be able to utilize every drop of water collected and not waste this sacred resource is a huge plus for our people," said Kyle Harmon, Nanticoke Councilman and reACT mentor.
reACT went beyond the solar-powered requirements of Solar Decathlon, capitalizing on the talents of UMD students to devise innovative features:
Modular construction: kit-of-parts allows endless design configuration in size, climate, and budget.
A mechanical core: high-performance, interactive, and environmentally sensitive automated system.
A GreenCourt: a marriage of a greenhouse and a courtyard; the social heart of the house.
Gardens and food production: plants support each other creating food webs.
A solar attic: uses the sun to heat water, dry clothes, and even cook food.
UMD's winning team includes students from the A. James Clark School of Engineering, School of Architecture, Planning and Preservation, College of Agriculture and Natural Resources, College of Education, and programs in several other disciplines campus-wide.
The only Solar Decathlon entry in the D.C.–Maryland–Virginia region, reACT is the university's fifth entry in the history of the Solar Decathlon competition. reACT will return to UMD where it will continue to be used as a research and education center, showcasing projects with regional industry and professional stakeholders.
The A. James Clark School of Engineering at the University of Maryland serves as the catalyst for high-quality research, innovation, and learning, delivering on a promise that all graduates will leave ready to impact the Grand Challenges (energy, environment, security, and human health) of the 21st century. The Clark School is dedicated to leading and transforming the engineering discipline and profession, to accelerating entrepreneurship, and to transforming research and learning activities into new innovations that benefit millions. Visit us online at www.eng.umd.edu and follow us on Twitter @ClarkSchool.
Published October 18, 2017