UMD's reACT Represents at the Smithsonian's Earth Optimism Summit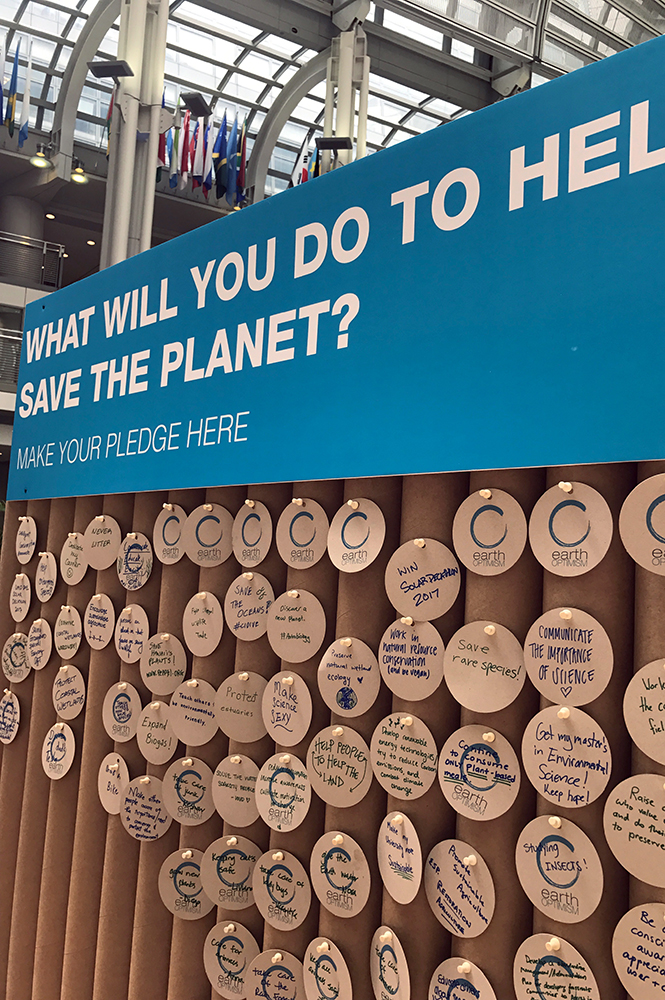 "The best way to encourage conservation is to share our success stories, not to write obituaries for the planet," says Nancy Knowlton, the Smithsonian Institution's Sant Chair for Marine Science and co-host of the Earth Optimism Summit. The first Earth Optimism Summit took place April 21–23, 2017, gathering more than 150 speakers and 1,000 thought leaders from around the world to discuss conservation, preservation, and protection of the environment. That weekend, three students from the University of Maryland's Solar Decathlon team joined the conversation.
Emily Goo (B.S. '18, environmental science and technology), Malik Johnson-Williams (M.S. '19, architecture and community planning), and Greg Goldstein (M.S. '18, architecture) were approached by the Smithsonian Institution with scholarships to cover all three days of the conference, and the opportunity to be a part of something that resonates so closely with the Department of Energy's Solar Decathlon competition.
The Summit focused on the rapid increase of environmental threats and issues, but from an angle of optimism by zeroing in on solutions and opening dialogue on conservation and sustainability. The UMD Solar Decathlon team's mission to create a house powered by the sun alone fits perfectly into that discussion. Their house, reACT, is designed to minimize waste and maximize power efficiency using climate data.
Goldstein, deputy construction manager on the Solar Decathlon team, says that the Energy and Efficiency presentation by William McDonough, Founder of William McDonough + Partners, hit home regarding his involvement with Solar Decathlon. McDonough's concept of Cradle to Cradle, which looks at applying regenerative design to products like homes and building them to be waste free, is a framework Goldstein wanted to take back to the team.
"The reACT home is an input and ultimately an output when it reaches the end of its life," Goldstein said. "So we're starting to look at sustainable, local materials, things that are biodegradable, things that can compost or be reused. I think that would be a really interesting way to cap off the whole project."
Water systems lead Goo hopes to incorporate a communication strategy into Solar Decathlon developed by author and filmmaker Randy Olson, who presented at the Summit. Olson emphasizes that scientists need to form their conversations in a way that everyone can understand, using the ABT method: And, But, Therefore. Goo understands that scientists can get wrapped up in details and be difficult to comprehend, so she will be sharing the ABT method with her teammates.
Without the scholarship, Goldstein would not have gone to the summit – as students rarely have an extra $575 available to spend, but believes that these kinds of global events are integral to staying informed on current issues and trends of conservation, preservation, and energy. "Education doesn't stop once you're finished with school, and it's really important to stay on top of issues as you move along," Goldstein said.
To get updates on the team and keep up with their progress, follow them on Twitter, like their page on Facebook, and check out reACT's design on their website!
Published May 15, 2017