Greer Wins Kirwan Undergraduate Education Award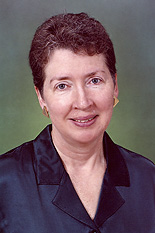 Professor Sandra C. Greer (emerita, chemical and biomolecular engineering; chemistry & biochemistry) has been named the 2008 recipient of the Kirwan Undergraduate Education Award.
The award, established by former University of Maryland President William E. Kirwan and Patricia H. Kirwan, recognizes faculty or staff who have made exceptional contributions to the quality of undergraduate education at the university. The prize carries an honorarium of $5000 and will be awarded at the Campus Convocation on October 7.
In a letter to Greer announcing the honor, University of Maryland President C. D. Mote, Jr. wrote, "You stand as a model of scientific advocacy. You have taken concerns about research ethics and women in science from your own classroom into reform of the curriculum within the University and across the nation. In your mentoring and pedagogy you have practiced what you preached."
Greer has received many accolades for her commitment to education during the course of her career, including the university's Distinguished Scholar-Teacher Award (1988-89), which recognizes senior faculty who combine outstanding scholarly accomplishment, excellence in teaching, and personification of UMD's image of the professorate; and the Clark School's Poole and Kent Teaching Award for Senior Faculty (2008), given to a senior faculty member for excellence in teaching. She also chaired the President's Committee on Undergraduate Education in 1987-88, an assignment that lead to the university becoming a national model of an environment conducive to the professional advancement of women.
In June 2008 Greer retired from the University of Maryland and became Provost and Dean of Faculty at Mills College in California. Mills College President Janet L. Holmgren also spoke of Greer's influence on education in a press release: "Her commitment to the education of women in the sciences is longstanding and has helped to raise awareness about the under-representation of women in the sciences."
Published September 3, 2008