Greer Named Provost, Dean of Faculty of Mills College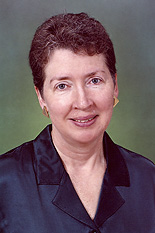 Professor Sandra C. Greer (Departments of Chemical & Biomolecular Engineering [ChBE] and Chemistry & Biochemistry) has been appointed Mills College provost and dean of faculty, effective July 1, 2008. Greer will be retiring after 30 years of service at the University of Maryland before beginning her new position at the Oakland, Ca. liberal arts college. Founded in 1852, Mills was the first women's college west of the Rocky Mountains.
"While we are all very sorry to see Dr. Greer go," said ChBE Professor and Chair F. Joseph Schork, "we feel a certain sense of pride that one of our own is going on to a position of leadership in the academic community. We will miss Sandra's collegiality and hard work, but I am sure Mills College will benefit greatly from them."
In a recent press release, Mills College President Janet L. Holmgren described Greer as "a renowned researcher and teacher who will enhance immeasurably Mills' reputation in the field of science; [and] a tireless advocate for the advancement and leadership of women in education and the professions." She added, "Her commitment to the education of women in the sciences is longstanding and has helped to raise awareness about the under-representation of women in the sciences."
Department of Chemistry and Biochemistry Professor and Chair Michael Doyle agrees. "Sandra Greer is a first-class scientist and educator who distinguished the [chemistry/biochemistry] department and the university with her continual vigilance in the promotion of ethics, equality, and excellence," he said.
After receiving her Ph.D. from the University of Chicago in 1969, Greer worked as a research chemist in the Heat Division of the National Bureau of Standards. She joined the Department of Chemistry (later Chemistry and Biochemistry) in 1978, where she has served as both its Chair and Associate Chair for Graduate Studies. In 1995 was jointly appointed to the Department of Chemical Engineering (later ChBE), becoming its first tenured female faculty member.
"I've always felt—even though I wasn't trained as an engineer—very welcome, and I've really enjoyed being in engineering," she said. "I love how engineers just haul off and go after solving problems without getting intimidated by the complexities. I've delighted in my association with them."
Greer's research program has earned her an international reputation for her work in the thermodynamics of fluids, fluid mixtures, and phase transitions (especially in polymer solutions); and, most recently, biopolymers. The impact of her publications led to her election as a Fellow of the American Association for the Advancement of Science and the American Physical Society.
Equally important to her career has been providing graduate and undergraduate students with outstanding educational experiences. A dedication to ethics in science and engineering inspired her to become one of the first and few to create courses on the topic. Most recently her efforts to expand ethics programs and curricula on campus have been supported by a NSF grant. Her excellence in the classroom has earned her a UMCP Celebrating Teachers Award and a UMCP Distinguished Scholar-Teacher Award.
"[She] is an inspiring teacher, not only in the ethics course, but especially in the introductory chemistry course that serves engineering students," said Doyle. "She uses demonstrations to get students' attention, involves them is discovery-based learning, and presents them with understanding beyond what could be expected. I have seen her in action, and I can confidently state that she is an educational force who brings students to a confidence in their learning ability that ensures them of future successes."
Longtime friend and colleague Professor Jan Sengers (emeritus, ChBE) recently stressed the importance of Greer's service to the university and the community, particularly with regard to women's issues. "Sandra has served on every major campus committee," he said, "However, her major influence was no doubt as Chair of the President's Committee on Undergraduate Education in 1987-88 that produced an extensive report titled Making a Difference for Women. This report became our blueprint for making the university environment conducive for the professional advancement of women. As a result, in 1990, at the annual meeting of the American Council on Education, the University of Maryland College Park was highlighted as a national model for enhancing the status of women in science."
"I've watched this university go through a lot of change," said Greer. "[Today] it is a very distinguished and respected institution and I feel very happy to have been a part of its transformation. We had good leadership, but I give a lot of the credit to the faculty and staff who did what needed to be done day in and day out, who were becoming better and better teachers, and better and better researchers, and making this the kind of place where students are excited to go to college and graduate school."
ChBE is initiating the process to award Greer Emerita status in recognition of her outstanding career.
Published May 22, 2008