Gov. Hogan Signs into Law $7.5M Maryland Energy Innovation Institute at UMD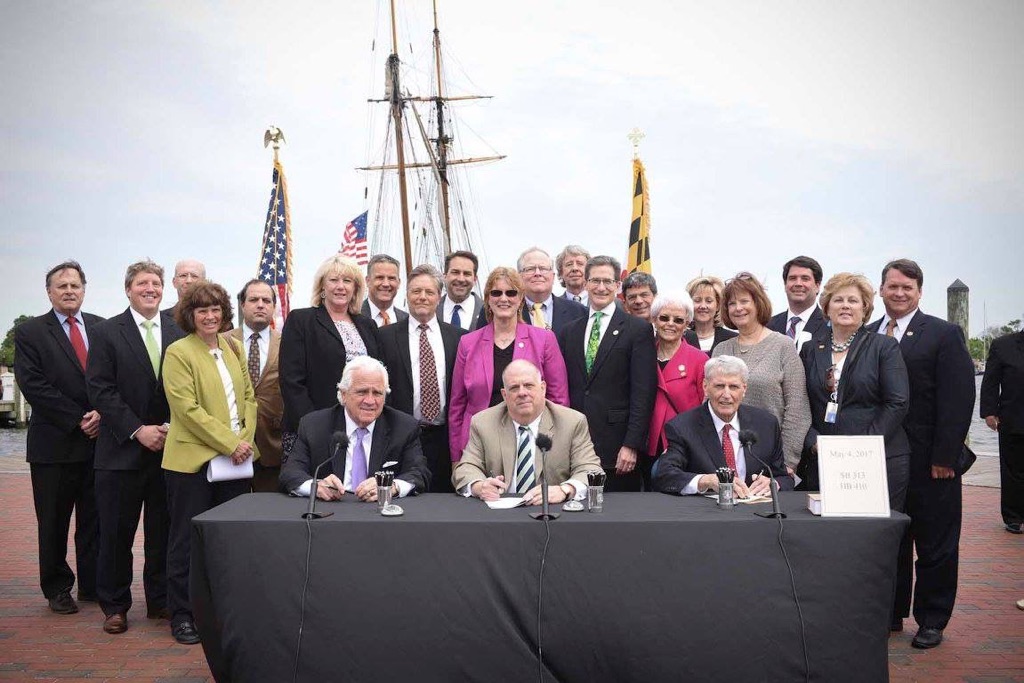 Maryland Governor Larry Hogan held a signing ceremony in Annapolis today that included a bill authorizing $7.5 million in funding to create the Maryland Energy Innovation Institute (MEI2) at the University of Maryland (UMD), an initiative that will catalyze clean energy research programs at academic institutions in the state and attract and develop private investment in clean energy innovation and commercialization. The institute will bolster economic jobs in the clean energy industry sector in Maryland, and also promote the deployment of clean energy technology throughout the state.
"We are proud to sign legislation to create the Maryland Energy Innovation Institute, which will develop and attract private investment and commercialize clean energy innovation in our state," said Governor Hogan. "We thank the legislature for working with our administration on these bipartisan efforts to grow clean energy investment and jobs, and ensure that Maryland continues to lead the charge when it comes to protecting our environment."
MEI2 is a collaboration between the Maryland Clean Energy Center (MCEC) and the University of Maryland Energy Research Center (UMERC) within UMD's A. James Clark School of Engineering. UMD is an established leader in energy research, with more than 100 faculty and students developing innovations that harness the power of clean energy such as solar photovoltaic technology, solar heating, geothermal, wind, biofuels, ethanol, and other sources.
"The University of Maryland continues to lead the way in clean energy research, moving discoveries and technology into the commercial space," said University of Maryland Provost Mary Ann Rankin. "This is the perfect means to bring together expertise in science, government and industry to bring value to the State of Maryland."
"The University of Maryland has made numerous breakthroughs in battery, fuel cell, solar, wind, and energy efficiency technologies," said Eric Wachsman, University of Maryland professor and director of MEI2. "The Maryland Energy Innovation Institute will provide the critical infrastructure to enable these breakthroughs to become commercially viable companies benefiting both the economy and the environment of the State of Maryland."
UMERC, which has been led by Wachsman for eight years, is a multidisciplinary university initiative dedicated to advancing the frontiers of energy science and technology, with a focus on energy storage, efficiency, and clean energy generation. The center has attracted approximately $70 million in funding and has spun off six companies, to-date.
"This policy and funding commitment allows MCEC to move forward in our efforts to advance the Maryland Clean Energy economy," said Josh Green, Vice President of Government and Industry Affairs, A. O. Smith Corporation and Chairman of the MCEC Board of Directors. "The board looks forward to continuing our partnership with the University of Maryland."

*Original press release published by Clark School on May 4, 2017.
Published May 8, 2017