Fisher, Lidie Win Electrochemical Society Student Chapter Poster Contest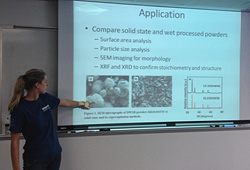 The University of Maryland Student Chapter of the Electrochemical Society (ECS) held its first annual poster contest this summer. The entrants were Clark School ECS graduate student members whose research had been accepted for presentation at the upcoming
222nd meeting of the ECS
in Honolulu, Hawaii. Department of Materials Science and Engineering (MSE) associate professor John Cumings and Department of Chemical and Biomolecular Engineering (ChBE) professor and chair Sheryl Ehrman served on a panel that judged poster-style slides presented by each competitor.
Aaron Fisher (ChBE) won first prize for his presentation, titled "Lithiated Block Copolymer Electrolytes with Ionic Liquids for Batteries," while Ashley Lidie (MSE) was selected as the runner-up for her presentation, "Fabrication and Characterization of Nanosized (DyO1.5)x(WO3)y(BiO1.5)1-x-y for Lower Temperature SOFC Application." They will both receive complimentary registration to the ECS meeting in October where they will deliver their full research presentations.
The UMD student chapter of ECS formed in October of 2011. Its mission is to unite graduate students involved in electrochemical research on campus in order to strengthen their research and professional skills. The chapter organizes an invited lecture series, student presentations, industry tours, and social events. Interested graduate students can contact chapter president Colin Gore at cmg@umd.edu for more information about the next chapter meeting.
Story by Colin Gore.
Published September 11, 2012