Engineers Without Borders Project Wins Grants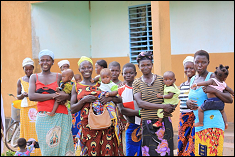 A project spearheaded by the
University of Maryland chapter of Engineers Without Borders
(EWB-UMCP) that will provide clinics in the western African nation of Burkina Faso with clean water and electricity has been bolstered by two recent grants: $5000 from the American Institute of Chemical Engineers (AIChE), and a $2500 Tyler Palmer Memorial Grant from the U.S. national chapter of Engineers Without Borders. Department of Chemical and Biomolecular Engineering (ChBE) junior Matt Conway serves as the team's current project leader, succeeding fellow ChBE student Kevin Diehn (B.S. '10, currently enrolled in the graduate program).
The rural villages of Dissin, Burkina Faso, are served by four medical centers. All are located off the country's electrical grid, forcing clinic staff members to work by flashlight and candlelight at night, and enlist the help of local residents to carry water to the facilities every day. The water is easily contaminated by unsanitary transportation and storage.
The EWB-UMCP team has been working to improve access to water and power in the Dissin communities since 2008, and has already installed solar battery charging stations, solar lighting in schools, and solar-powered water pumps. The clinic project has been carried out in several phases that build on the evaluation and success of the earlier work: In January 2010, team members installed solar-powered lights in each of the four clinics. They returned in August 2010 to test water quality and make plans for the clinics' new pumping and sanitation systems. The expertise of young chemical engineers like Conway and Diehn proved to be especially important to the wells' new slow sand water filtration systems, which rely on the chemical engineering fluid flow principles of friction factors and flow-through porous media.
Over the 2010-2011 academic year, the team finalized their designs, worked with students from the School of Public Health to create an education plan for improving overall sanitation at the clinics, and in January 2011 implemented the system in the busiest of them, giving it clean, running water for the first time.
All phases of this project and its predecessors have been completed with the support of the local communities and medical center staff.
Conway spoke about his experience in Burkina Faso, and how it has affected EWB's definition of what sustainable energy means in an underdeveloped country, at the 2011 Clark School Engineering Sustainability Workshop.
For More Information:
Visit the EWB-UMCP Burkina Faso project homepage »
Watch Matt Conway's Engineering Sustainability Workshop presentation about the Burkina Faso projects »
Published May 13, 2011