Ehrman Named Associate Chair, Graduate Program Director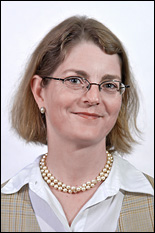 Associate Professor
Sheryl Ehrman
has been named the Department of Chemical and Biomolecular Engineering's Associate Chair and Graduate Program Director, effective July 1, 2008.
Ehrman previously held the Graduate Program Director position from 2004-2006, and is resuming her duties following a sabbatical. Associate Professor Evanghelos Zafiriou has served in the position for the Department during the past two years.
"I really enjoyed the different aspects of the position, including recruiting, advising new students, and being responsible for the smooth functioning of our graduate program," Ehrman says of her prior experience. "I'm happy to be returning to it, and I look forward to working with the other members of the Graduate Studies Committee and with Kathy Lopresti [Assistant Director of Undergraduate and Graduate Studies] on continuing to improve the quality of our graduate program. I also look forward to meeting and working with the incoming students!"
The Department would like to extend its thanks to Professor Zafiriou for his tenure as Graduate Program Director.
Professor Ehrman can be reached at (301) 405-1917 or sehrman@umd.edu. You can learn more about her research by visiting the P2OWDER Group web site.
Published June 30, 2008