Chunsheng Wang Named 1 of 10 Li-ion Battery Researchers to Watch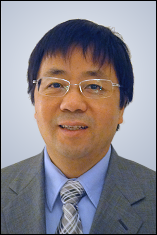 Chungsheng Wang, a professor in the University of Maryland (UMD) Department of Chemical and Biomolecular Engineering (ChBE), was cited by Research Interfaces as one of the "10 Lithium-ion Battery Researchers to Watch."
According to the post, Wang is "one of the most creative scientists out there. Pick any important area of battery research and his team will have contributed to it. For instance, we like their work on high-voltage electrolytes and electrode/electrolyte interfaces. We also like them challenging the limits of battery operation via, for example, extreme temperatures or mechanical deformation. Whatever the topic, whatever the collaboration, they get interesting results."
Wang has made headlines over the past several years with a plethora of battery research, including a high performance electrolyte made of silicon nanoparticles, novel chemistry for water-based batteries, a polymer cathode for sodium-ion batteries, and electrolytes capable of performing in extreme environments.
Research Interfaces hosts a monthly review, Keeping Up With Batteries, which generates discussion on research published in over 100 energy journals.
Published May 20, 2020