Chemical and Biomolecular Engineering Department Graduate Selected for Prestigious Department of Energy Award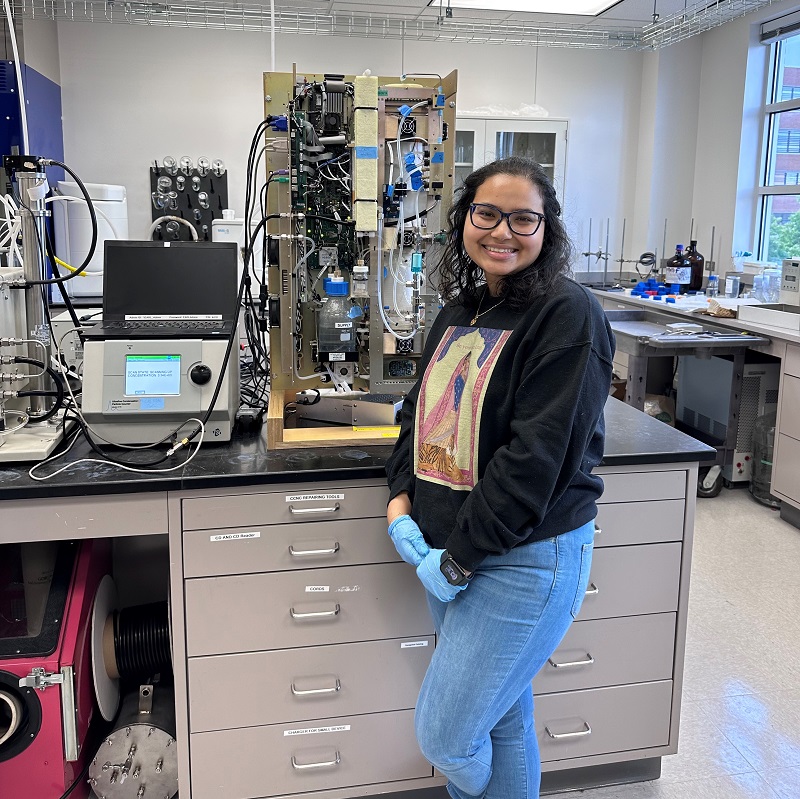 Nahin Ferdousi-Rokib Participates in DOE Science Graduate Student Research Program
Nahin Ferdousi-Rokib, PhD '23, chemical engineering, was one of 87 graduate students recently selected for the U.S. Department of Energy's (DOE's) Office of Science Graduate Student Research Program (SCGSR). Through world-class training and access to state-of-the-art facilities and resources at DOE national laboratories, SCGSR prepares graduate students for positions of critical importance to its mission and to maintaining the nation's position at the forefront of discovery and innovation.
Ferdousi-Rokib's proposed project, focusing on aerosols and aerosol-cloud interactions, closely aligns with the DOE Atmospheric System Research mission "to improve understanding of the key cloud, aerosol, precipitation, and radiation processes that affect the Earth's radiative balance and hydrological cycle."
Ferdousi-Rokib has had her head in those clouds throughout her academic career. "At Lafayette University, Professor Joseph Woo introduced me to the world of aerosols and opened my eyes to a different aspect of chemical engineering," she recalls. "Applying core chemical engineering concepts (thermodynamics) to an environmental issue is super exciting to me."
After receiving her undergraduate degree, Ferdousi-Rokib worked as a lab equipment specialist at Syneos Health. Her work assessing the effectiveness of drugs undergoing FDA trials would become all the more important when COVID-19 struck, but the job only strengthened her commitment to conducting research on aerosols.
A review of the American Association for Aerosol Research (AAAR) website led her to work conducted at Maryland by Chemical Engineering Professor Asu Asa-Awuku, who served as president of AAAR in 2022. "She is considered a major force in aerosol research so I reached out to her to discuss the Clark School's work and if my skills would be a good fit," she recalls. "I applied and emailed her the day I was accepted." She adds, "Both of my mentors took a chance on me; it is so important to have good mentors along your journey."
Aerosols are a major component of the atmosphere's radiative-forcing balance as well as a source of uncertainty in global temperature projections. Aerosols form cloud condensation nuclei when particles are exposed to air supersaturated with water vapor, and droplets are activated. "My work challenges a major assumption that all droplets that are activated into cloud condensation have a surface tension equivalent to the surface tension of water," explains Ferdousi-Rokib.
"By measuring surface tension and its impact on cloud-forming abilities, we looked at how theoretical applications of cloud forming compared to experimental applications," said Ferdousi-Rokib. Her work, presented at 40th Annual Conference of AAAR in 2022, helped prove surface tension does impact cloud-forming ability, which can have an impact on global warming.
Through the SCGSR, she will take her research to the next level with Laura Fierce, an AAAR atmospheric scientist at the Pacific Northwest National Laboratory (PNNL) in Richland, WA,where some of the world's greatest science and technology challenges are met in the areas of chemistry, earth sciences, biology and data science.
"Currently, the DOE models do not account for changes in surface tension. By applying my findings to current models, we can see if it leads to improvements in cloud-forming predictions on a wider scale," Ferdousi-Rokib explains. Her work can help answer such critical questions as: How much do aerosols impact temperature? How do clouds impact the climate? Will reducing cloud nuclei in the atmosphere cause a larger warming effect than anticipated or are current predictions correct? Answers to these questions are directly related to aerosol reduction in the atmosphere.
"This is what is most exciting to me. By combining our observations in the lab and using DOE data, Dr. Fierce and I can apply our findings to a larger-scale model," she notes. "I am so grateful DOE has recognized the importance of this work." She will begin the program in July following a cross-country road trip with her husband.
Published June 23, 2023