Jessica Strongin Wins NSF Graduate Research Fellowship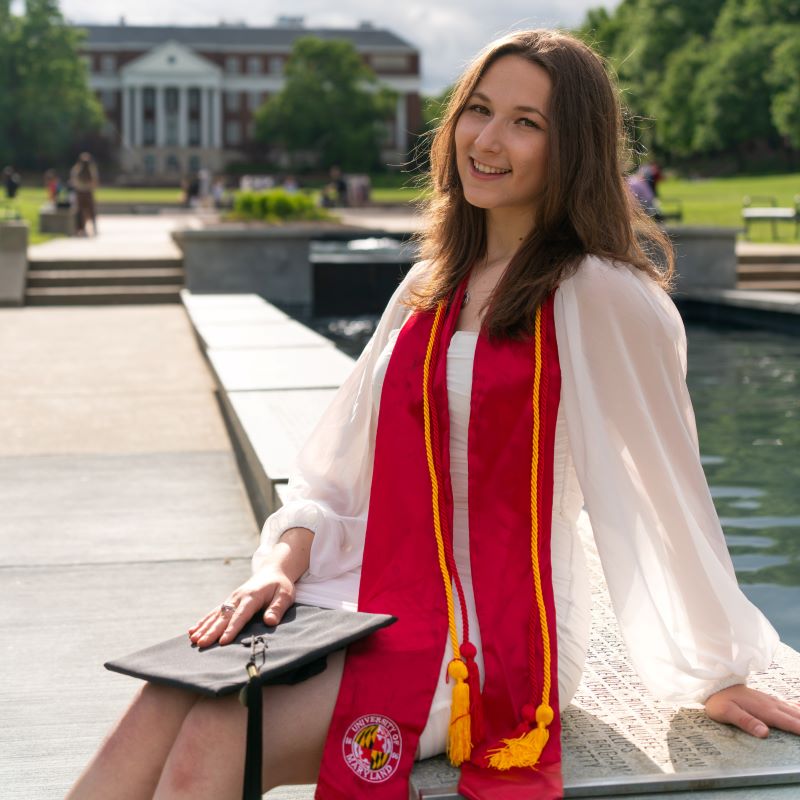 Jessica Strongin, B.S. '23, chemical and biomolecular engineering, has been selected for the National Science Foundation's Graduate Research Fellowship Program (GRFP). The five-year graduate fellowship, the oldest of its kind, supports outstanding students who have demonstrated the potential to be high-achieving scientists and engineers early in their careers.
"This fellowship is a great opportunity and gives me the freedom to do research in the field of materials discovery for biomedical applications," says Strongin. "The Clark School's interdisciplinary approach to engineering has positioned me well to solve really complex problems in effective, novel ways." As a PhD student at Johns Hopkins University Strongin wants to focus on the intersection between computational research and experimentation, using computational approaches to model chemical systems and develop new materials and their properties. At Maryland, she has focused her research on dielectric materials that can cause electrical failure on spacecraft and satellites when the components of the materials break down. After prolonged exposure to high-energy electrons in a charge-filled environment, dielectrics reach their voltage threshold and break down, releasing the previously built-up charge. Although many polymers can exhibit deep dielectric charging and associated behaviors, polymethyl methacrylate (PMMA) is one of the most used materials for studying dielectrics. As part of the Koeth Research Group, she studied materials in extreme environments, including applying optical spectroscopy and polymer characterization techniques to analyze PMMA. "The mentoring I have received from Dr. Tim Koeth has been eye-opening and has inspired me to pursue a career in research," says Strongin. "We want to look at how different chemical and physical properties of dielectric materials affect charge retention properties. Strongin notes that materials less susceptible to breakdowns could reduce the need for rebuilding and maintenance of satellites and could lead to greater innovations in using plastic in batteries, providing a low-cost and renewable energy alternative. Her work at Hopkins is a natural extension, focusing on how "electronics" function in the body in applications such as sensors and prosthetics.
During her undergraduate studies, Strongin interned with the Nuclear Regulatory Commission focusing on incorporating data science into radiation protection codes and nuclear site decommission using drones. She has been a teaching assistant for multiple courses and a board member of Snider Consulting Group, a club that does pro bono consulting for UMD student organizations. She also participated in QUEST, the university's multidisciplinary honors program, working on projects as diverse as developing a machine learning classification model to determine donation hubs for a local nonprofit to redesigning a sanitary pad to creating a plan for pop-up manufacturing plants in Ugandan homes. Her capstone project was with the global seasoning manufacturing company McCormick & Company, where she worked on a project with the Hunt Valley Plant in Baltimore. "Our team was asked to quantify how much money was lost due to stops in the production line in response to high temperatures and humidity in the facility," says Strongin, who presented her findings to plant management.
Strongin says there is nothing she would change about her experience at the Clark School. "It has been challenging, but I feel extremely prepared to enter the work world and I am excited to get more opportunities to do unique research and explore a future career in education."
Published June 27, 2023