ChBE Senior Named Merrill Presidential Scholar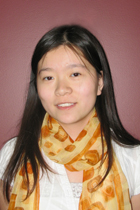 Department of Chemical and Biomolecular Engineering (ChBE)/Department of Mathematics senior YiAn (Ann) Sun has been named one of the University of Maryland's 2010 Philip Merrill Presidential Scholars. She and her mentors, ChBE assistant professor Chunsheng Wang and Montgomery Blair High School mathematics teacher Eric Walstein, were among those honored at a ceremony held November 5. Sun has been a member of Wang's research group since her sophomore year.
The Philip Merrill Presidential Scholars Program honors the most successful rising seniors from each of the university's schools and colleges, as well as their mentors from both the university faculty and their precollege education. The scholars' mentors participate in a workshop designed to strengthen relationships between the university and K-12 schools. To continue the legacy of academic excellence and mentoring, scholarships are awarded in the precollege teachers' names to new first year UMD students from their respective high schools or school districts.
In a statement on the program's web site, Sun explained how Wang has influenced her success. "Dr. Wang has taught me the basics of electrochemistry and battery development, invited me into his lab group, and allowed me to grow and develop as a researcher," she wrote. "He has also been supportive academically and helped me realize my full potential as an engineer and scientist."
Sun credits Wang and Walstein's support in influencing her decision to pursue graduate studies in applied mathematics.
Wang is proud of Sun's accomplishments. "Ann has published a paper with me in a high-impact journal, Electrochemistry Communications, and has just submitted another to the Journal of Power Sources," he says. "She not only has very solid theoretical knowledge, but also has very good hands-on experimental sills. She always carries out her experiments in an ordered and efficient fashion. She is mature and responsible, an extraordinary student, bright, diligent, responsible and humble. I can foresee a brilliant future for her, wherever she goes."
In addition to her Merrill Presidential Scholarship, Sun was awarded a 2010 U.S. Department of Energy Mickey Leland Energy Fellowship, which supported a summer research project on Li-ion batteries at the National Energy Technology Laboratory; a 2010-2011 Women in Engineering Undergraduate Research Fellowship; and a Banneker/Key Scholarship, the most prestigious merit scholarship awarded by the University of Maryland. She also served as the undergraduate representative on the 2010 search committee convened to select ChBE Professor and Chair F. Joseph Schork's successor following his retirement.
For More Information:
Visit the Philip Merrill Presidential Scholars Program web site
See Juchen Guo, Ann Sun, Chunsheng Wang. "A porous silicon–carbon anode with high overall capacity on carbon fiber current collector," Electrochemistry Communications 12 (2010) 981–984.
Published November 16, 2010