ChBE Senior Named Merrill Presidential Scholar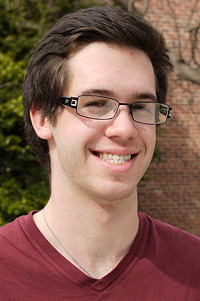 Department of Chemical and Biomolecular Engineering (ChBE) senior Issac Zaydens has been named a 2014-2015 Merrill Presidential Scholar.
The Merrill Presidential Scholars Program honors the University of Maryland's most successful rising seniors and their mentors from both the University faculty and their K-12 education. Each year, scholars and their mentors are recognized in a special ceremony, and teachers and faculty participate in a workshop designed to strengthen relationships between the university and K-12 schools. To continue the legacy of academic excellence and mentoring, scholarships are awarded in the K-12 mentors' names to new first year students from their respective high schools or school districts.
Zaydens' University of Maryland faculty mentor is Associate Professor Richard James Bell (Department of History), and his teacher mentor is Mrs. Barbara Kondratowicz (Paramus High School, Paramus, N.J.).
In a statement on the Philip Merrill Presidential Scholars web site, Zaydens described Kondratowicz, his 9th grade social studies instructor, as one of the most influential teachers in his life.
"Mrs. Kondratowicz valued education and the thirst for knowledge like no other teacher I've had," he wrote. "She made me want to learn, and not only in her class. She taught me that knowledge is one of the most important things a person can gain."
At the University of Maryland, Zaydens met Bell, whom he describes as "profound."
"I planned to take an easy first semester," he wrote. "…fortunately, Dr. Bell did not give me this opportunity….he, like Mrs. Kondratowicz, expected our best performance during class and on the assignments. Dr. Bell is the reason why I am so academically successful because he had pushed me to my limits and brought out a work ethic that I have never seen in myself. He also inspired me to try and meet his high standards."
Zaydens has been an anchoring member of the Thirsty Turtles, ChBE's Chem-E car team, and has served as an officer in the Clark School's student chapter of the American Institute of Chemical Engineers. His past honors include an internship in the Global Engineering and Manufacturing department of Air Products' Hyco Product Engineering division in Allentown, Pa., arranged through the competitive SCI Scholars Program.
For More Information:
Visit the Philip Merrill Presidential Scholars Program web site
Published August 12, 2014