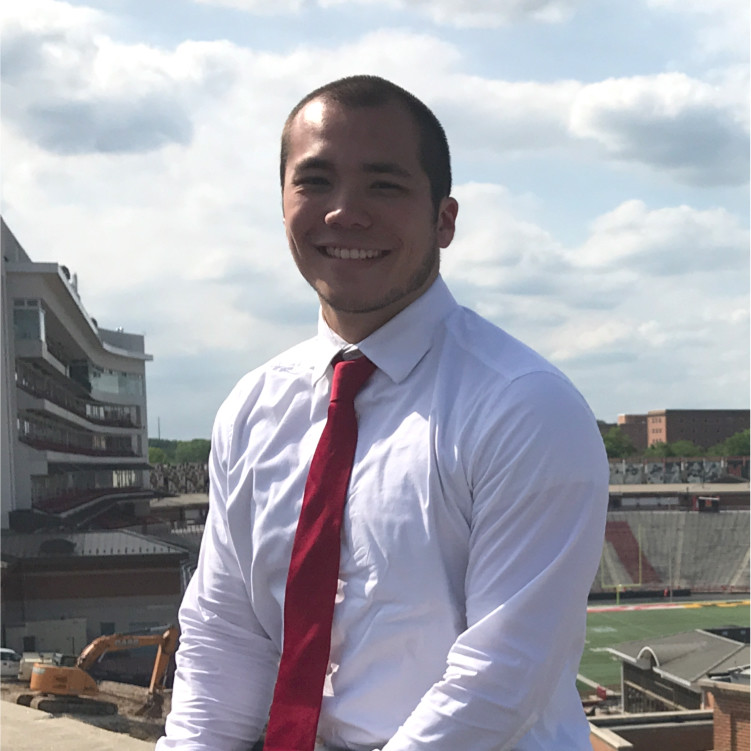 Being a scholarship recipient... drove me to become more involved with ChBE and to take advantage of a diverse set of opportunities.
Tanner Pfendner ('18) grew up in a diverse family – he's the second oldest of seven children, three of whom were adopted internationally, making a total of nine nationalities under one roof – on the outskirts of Philadelphia, so when he toured the University of Maryland (UMD) campus, he felt right at home.
"Of all the schools I toured, UMD was by far my favorite campus," Pfendner said. "Right after my first prospective student tour, I knew I'd fit right in. The student culture, numerous events and clubs, and the top-quality education, including renowned research facilities and networking, made it easy for me to commit."
STEM subjects came naturally to Tanner and his parents infused a strong work ethic that he would eventually need to succeed in college.
"My parents weren't engineers, or affiliated with the field in any way," he said. "Still, they recognized my talent for STEM subjects, and my math and chemistry teachers advocated for me to pursue engineering, so I thought… why not? In the end, it was the only major I could see myself doing and the only career I have a passion for."
Pfendner knew chemical engineering would be one of the most rigorous majors he could pursue, but he was looking for a degree that would not only challenge him, but allow him to make a strong impact on people's lives. Once accepted into the Clark School, Tanner learned quickly from his professors about the numerous career paths a chemical engineering degree could provide, from pharmaceuticals to energy to new materials, all of which influence and change the way we live.
The tricky part was coming up with tuition money.
"From the start, I understood I would be responsible for my tuition, since there's no way my folks could fully support me and all of my siblings," he said. "Plus, I was paying out-of-state tuition. It was a lot to take on, but I knew I was making the right decision."
Pfendner was encouraged by ChBE Chair Peter Kofinas to apply for several scholarships offered by the department, and apply he did. Tanner received the Robert W. Newcomb Endowed Engineering Scholarship as well as a Clark Steyer Scholarship.
"I knew coming in the road to paying my loans back would be long, but these scholarships helped immensely," said Pfendner. "Being a scholarship recipient confirmed that my hard-work, service and commitment to the department was worth it, and they drove me to become more involved with ChBE and to take advantage of a diverse set of opportunities."
During his tenure, Pfendner co-founded the UMD Calisthenics Club with fellow ChemE major, Joey Hurm. He also traveled to regional and national conferences for ChemE car competitions, and participated in numerous intramural sports. Additionally, Tanner conducted multiple internships; studied abroad in Glasgow, Scotland, during his sophomore year; got his research-feet wet in Professor Chunsheng Wang's lab during his sophomore and junior years, and was an undergraduate teaching fellow for Thermodynamics II under Professor Jeffery Klauda.
Currently, Pfendner works as a development engineer at Greene Tweed & Co. in Kulpsville, Pa.
"Currently, I lead large scale manufacturing and new technology development projects where I report out to the global team and upper management on a bi-monthly basis," he said. "I'm constantly looking to develop myself professionally, and I work closely with my supervisor to determine which projects and opportunities I can take advantage of to keep me a step ahead. Being a ChemE helped me become a leader in the workplace and showed me that there is always time to work on personal and professional development."
So, any advice for current and incoming students?
"Take advantage of every opportunity that comes along, and don't be afraid to try something new. Be willing to adapt and harness your learnings as a means of building on your skillset. It also really helps to form relationships with your professors and fellow students – networking is critical to catapulting your career. The Department  gave me the dedication and focus to succeed in a major I'm passionate about, while also encouraging me to be creative and to collaborate with a tight-knit group of students for which I will always be grateful."
Top