Chem-E Car Set to Compete in National Competition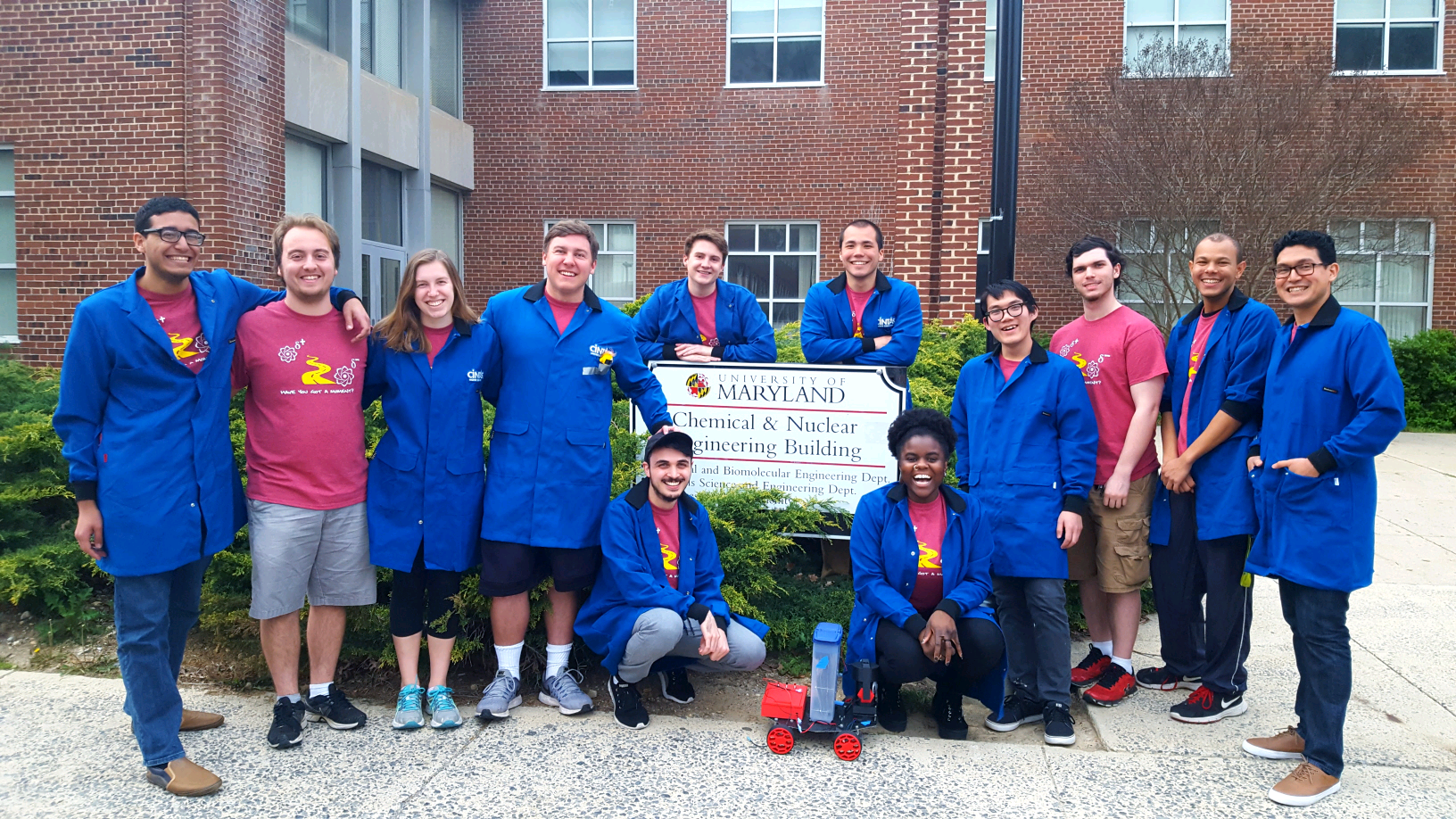 UMD's ChemE Car team placed 5th at the Mid Atlantic Regional competition, at Rowan University (NJ), in March, which secured their slot for the 2017 National Competition, taking place this October in Minneapolis.
This Annual Competition, hosted by the American Institute of Chemical Engineers (AiCHE), engages college students in designing and constructing a car powered by a chemical energy source, that will safely carry a specified load over a given distance before coming to a stop. The competition, which involves multiple regional competitions and a final competition at the Annual Student conference, increases awareness of the chemical engineering discipline among the public, industry leaders, educators, and other students.
Ensuring the car would move was no easy feat, but now all team members can say they spent their spring break building a zing manganese battery - from scratch.
"I think one of the highlights was having our previous President and other alumni come all the way there to support us," said Soliver Fusi, the team's President. "Not one person was dry eyed when we learned we'd made the cut, and it warmed my heart. It really shows that we are so much more than a team."

Now, the team has a great deal of refining, data analysis and training of its members to manage before the October compeition, which comes with a cash prize.
Although, it's not about the money, said Fusi. "Winning this compeition is our way of thanking the Department for continuously working to serve us to the best of their abilities, for supporting us when we fail, and for always being just a short email away when we need. Winning is also our way of inspiring younger generations how powerful engineering is."

Team members who attended the regional compeition were:

Dat Huynh
Greg Jarnutowski
Kirellos Abouelsaad
Kype Patrick
Matt Furda
Matteo Ricci
René Monterroso
Ryan Felix
Sophie Dietrich
Tanner Pfendner
Patrick Cable
Congratulations to the team, and many thanks to their support system!!
Published April 10, 2017