ChBE Professor Receives 2017-2018 Distinguished Scholar-Teacher Award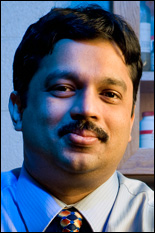 Srinivasa Raghavan, a Patrick and Marquerite Sung Professor of Chemical Engineering, has been selected for the UMD Distinguished Scholar-Teacher Award for the 2017-2018 school year. This award acknowledges senior faculty members who demonstrate outstanding scholarly and teaching accomplishment. Dr. Raghavan's group activities have resulted in major advances in soft materials, both fundamental and applied, detailed in 160 papers that have been cited over 8700 times, according to Google scholar. Innovations out of his lab have also served as the basis for several start-up companies including Remedium and GripBoost.
As part of the program, Professor Raghavan will give a special lecture on his research next year to the campus community.
Published April 12, 2017