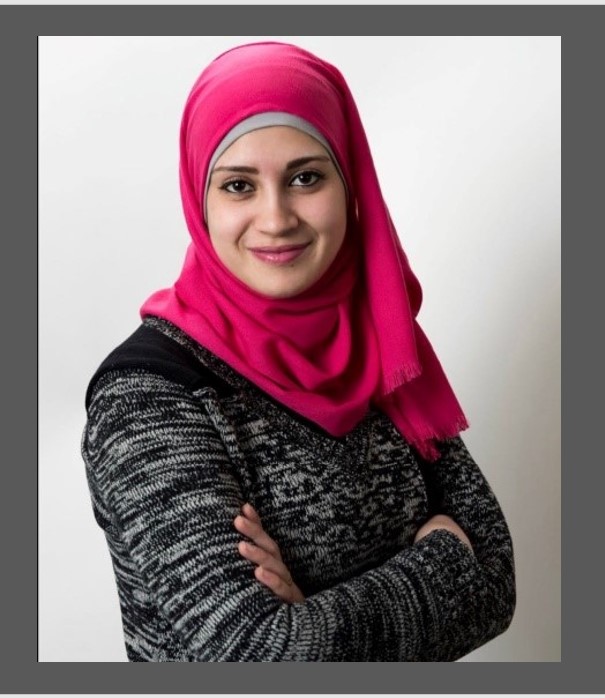 Teamwork is vastly important, so get to know your classmates and problem-solve as a group. We're stronger if we work together.

The Life of a ChBE Undergrad
The challenge of balancing work and family obligations can be enormous, and for some, overwhelming. Adding school into the mix only amplifies the challenge. And yet, some people not only prevail, but thrive under such pressure. Hanan Abuzeineh - a junior in the University of Maryland (UMD) Department of Chemical and Biomolecular Engineering (ChBE) - has done just that.
Originally from the Palestinian city of Hebron in the West Bank, Hanan immigrated to the U.S. in 2016. Having excelled in math and problem-solving, in addition to a love of organic chemistry, Hanan finished first in her class - a cumulative 99.1% on her high school final exams was the highest in the nation. Although her parents encouraged her to go into medicine or engineering, chemistry interested her the most.
Hanan attended the University of Hebron for two years as a chemistry major before a chance meeting with the man who would become her husband, Osama Abuzeineh, an alumni of the UMD Department of Civil Engineering.
"We met at a wedding in Hebron and got to talking," she said. "There was something unique about him, and he just drew me in." They were married in 2015 and Osama encouraged Hanan to continue her studies in the U.S.

"I already knew that the University of Maryland was one of the best schools in the United States, and I had heard that chemical engineering was an especially strenuous program," Hanan said. Knowing that Montgomery College in Silver Spring had a high transfer student rate, she began there, and graduated with 4.0 as a chemical engineering major, in addition to giving birth to a baby girl, Maryam, after her first year.
"My original plan was to major in chemistry, but I wanted more of a hands-on program, and the Clark School overall has so much to offer - it made sense for me to switch to chemical engineering, even though I knew the curriculum would be difficult," she said.
After completing a summer internship at the National Institute of Standards and Technology (NIST), Hanan started at UMD in the fall semester of 2018. Not even a year later, she gave birth to her second child - in the middle of final exams - in December, 2018.
"Aya was born on a Friday, and I was back in class the following Wednesday to complete exams for ENMA 300 and CHEM 272," she laughed. "Then I had two more exams the next day, including thermodynamics with Dr. [Jeffery] Klauda - it wasn't easy, but I'm still here!"
 So, what has been the best part of your academic experience?
"The group work - working together with my classmates to solve the most difficult problems has been a lifesaver," Hanan said. "Before, I was doing everything alone and it was really hard. Then Dr. [Deborah] Goldberg advised me to get involved with the ChBE mentoring program and everything changed. From the beginning, Drs. Goldberg and [Amy] Karlsson have given me tons of advice that I wholeheartedly followed - I couldn't have succeeded otherwise."
She added: "The hardest part of this journey, by far, has been balancing school with my family life. I'm so lucky to have a husband and in-laws that are immensely supportive - without them, there's no way I will accomplish my goal!"
In her spare time, Hanan enjoys volunteering at a community center in Laurel, Md. where she helps organize and distribute food, clothes, money, etc. to community members in need.
"It's important to give back," she said. "My family and I are Muslim, but that doesn't matter in our community - the center is open to all walks of life and especially in these complicated times, it's important to help other people if you can."
Hanan is on track to graduate in spring of 2021. Post-commencement plans could include going into industry, working for the federal government, or continuing her studies.
"I'm not absolutely certain - it's either continue on to graduate school and become a professor, or maybe try to work for the FDA - I love food! And I would love to work as a research analyst in the food safety field," Hanan said.
So, given the complexity of the major, any advice for incoming students?
"I've found that taking good notes, and reading those notes immediately after each class, to be the most beneficial," said Hanan. "That and teamwork - it's vastly important to get to know your classmates and problem-solve as a group. We're stronger if we work together."  
Top