Wu Wins Catalysis Club Poster Award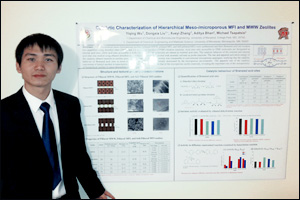 Department of Chemical and Biomolecular Engineering (ChBE) graduate student Yiqing Wu, advised by ChBE assistant professor Dongxia Liu, was one of four first-place winners in the
Catalysis Club of Philadelphia
's annual Student Poster Contest, held in October 2012. In addition to the prize, Wu has been invited to deliver a presentation at one of the club's forthcoming monthly meetings.
Wu's poster, "Catalytic Characterization of Hierarchical Meso-/microporous MFI and MWW Zeolites," describes novel lamellar structured zeolite catalyst materials for reaction engineering that could be used to manufacture new or improved industrial chemicals and clean fuels.
The catalysts Wu studies exhibit a high reaction rate and controlled selectivity, allowing them to produce products with greater purity and less waste. If the cost of synthesizing these new catalysts can be reduced, the cost the high-quality products created with them will be as well.
"The hierarchical MFI and MWW zeolites with unit cell thick crystallite size were synthesized and their catalytic ability was studied by using probe reactions such as dehydration of ethanol and alkylation of benzyl alcohol with aromatic solvents," Wu explains. "The intrinsic catalytic behavior of hierarchical lamellar zeolites is comparable to their microporous counterparts; while in diffusion constrained reactions, hierarchical lamellar zeolites can successfully mitigate diffusion limitations because of the facile mass transport in the novel unit cell thick zeolite crystallites."
Published November 6, 2012